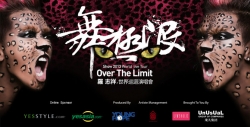 Singapore, Singapore, March 07, 2013 --(
PR.com
)-- Online retailers YesStyle and YesAsia proudly served as Online Sponsors of Show 2013 World Live Tour – Over the Limit in Singapore. One of Asia's most famous pop acts, Show Luo staged the Singapore leg of his 2013 world tour on March 1 at the Singapore Indoor Stadium. The Taiwan superstar delivered an exciting lineup of pop hits and dance performances to a packed audience that included the lucky winners of YesStyle and YesAsia's ticket giveaway contests.
YesStyle and YesAsia's sponsorship of Show 2013 World Live Tour – Over the Limit in Singapore demonstrates the companies' continual commitment to supporting and promoting Asian artists and talent around the world. Fashion retailer YesStyle has previously sponsored major events like DUO Eason Chan 2012 London Concert, Wonder Girls Wonder World Tour 2012 in Singapore, K-Pop Festival - Music Bank Hong Kong 2012 and the 2012 Korean Music Festival in Los Angeles, as well as indie artists like Asian-American singer-songwriters David Choi and Clara C and Singapore duo The Freshman.
The largest online shop for Asian entertainment products, YesAsia offers worldwide customers a vast catalogue of Chinese music and entertainment, including Show Luo's albums and television dramas which regularly top the site's sales charts. Luo's recent album Good Show was the best-selling Taiwan album of 2012 on YesAsia.
YesStyle and YesStyle greatly appreciate the opportunity to collaborate with leading concert promoter UnUsUal Entertainment and to support Show Luo's successful concert tour in Singapore. Leslie Ong, director of UnUsUal Entertainment, also expressed his gratitude. "We would like to thank YesAsia and YesStyle for being the Online Sponsors of Show 2013 World Live Tour – Over The Limit in Singapore," he said. "Both YesAsia and YesStyle have a strong online presence in the region and we are truly glad to have them on board. We look forward to working with them for more concerts."
One of the biggest names in the Chinese entertainment industry, Show Luo is immensely popular as a singer, actor and television host throughout Asia. The best-selling artist's slick dance hits and energetic stage performances have earned him the title of "Asia's Dance King" from media and fans. Kicking off in January, Show 2013 World Live Tour – Over the Limit sold out shows in Taipei and Hong Kong before arriving in Singapore for the tour's third stop.
About YesAsia.com
Founded in 1998, YesAsia.com is headquartered in Hong Kong with regional offices in Japan and South Korea. YesAsia.com has carved itself a niche as a leading Internet source for a wide range of Asian entertainment products, including music, videos, anime, games, books, electronics, toys and collectibles. YesAsia.com has a global base of over 700,000 customers in more than 150 countries.
About YesStyle.com
YesStyle is the world's largest online Asian fashion retailer, offering a wide range of fashion, jewelry, accessories and beauty products. Launched in 2006, www.yesstyle.com allows customers to browse over 300 fashion brands from Tokyo, Seoul, Taipei and Hong Kong. To serve growing customer bases around the world, YesStyle launched www.yesstyle.com.au and www.yesstyle.com.hk in 2010, and www.yesstyle.co.uk and www.yesstyle.ca in 2011. Highlighting the latest trends and styles, YesStyle is dedicated to providing the best platform for Asian designers and fashion brands to connect with international customers.
About UnUsUaL Entertainment
UnUsUaL Entertainment Pte Ltd, a part of the UnUsUaL Group of Companies, is a leading concert promoter in Asia. The company specializes in the organization and promotion of concerts and events. Its diverse target audience ranges from the young to the mature. These audiences have been captivated by the more than 40 concerts and events being organized annually in Singapore and the region. Sold-out performances by Asian and international artists under UnUsUaL Entertainment's portfolio include – A-mei, Air Supply, Andy Lau, Engelbert Humperdinck, Jacky Cheung, Jay Chou and Rain. For more information, please visit www.unusual.com.sg.