Jeff Macauley Sings Norman Gimbel at NYC's Don't Tell Mama Saturday, March 30th at 7:30pm, Presented by Cabaret Obscura
Jeff Macauley sings the lyrics of Norman Gimbel in "It Was Me." Norman Gimbel wrote the words to Girl From Ipanema, Sway, Killing Me Softly With His Song, the theme to Wonder Woman and many other pop standards of the last 60 years. Jeff Macauley is a Backstage Magazine's Bistro Award winning singer specializing in classic American Pop of the last 80 years.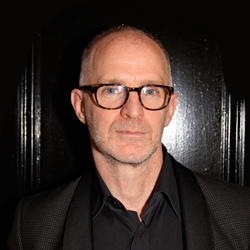 New York, NY, March 20, 2013 --(
PR.com
)-- Jeff Macauley brings back his acclaimed show "It Was Me-The Lyrics of Norman Gimbel" to Don't Tell Mama for one more performance on Saturday, March 30th, 2013 at 7:30pm.
"It Was Me-The Lyrics of Norman Gimbel" has been performed in both Los Angeles and New York since August, 2012. In his previous shows, Jeff Macauley explored the rich world of early musical films in "Hollywood Party--Movie Songs 1928-1936," and paid tribute to the most popular female singer of the 40's and a beloved Hollywood icon in "MWAH! The Dinah Shore Show," for which he received Backstage magazine's Bistro Award. Jeff was recently nominated for the 2012 Broadwayworld.com Cabaret Award for Best Male Vocalist for "It Was Me-The Lyrics of Norman Gimbel." After examining the popular songs of the '20s through the '40s, Jeff is now taking a look at the popular music of the '50s, '60s and '70s through the extensive catalog of Norman Gimbel under the musical direction of the superbly talented Tex Arnold, who also wrote the arrangements and the wonderful Jon Burr on bass.
Norman Gimbel won an Oscar for "It Goes Like It Goes" from Norma Rae and is responsible for some of the most recognizable and best-loved lyrics of the last half-century. In a career that goes back to the early '50s, Mr. Gimbel, working with such composers as Charles Fox, Michel Legrand, David Shire and Antonio Carlos Jobim, gave words to such standards as Meditation, Sway, So Nice, The Girl From Ipanema, I Will Wait For You, Watch What Happens, I Will Follow Him, Killing Me Softly With His Song, Bluesette, and Canadian Sunset, as well as the themes to Wonder Woman, Laverne & Shirley and Happy Days.
"Cabaret Caviar"—Philip Littell
"That's darling!"—Marilyn Maye
"Classy, accessible and fun. Dapper and Mad Men-esque in a tight black suit and black bow tie, Macauley presented his show as if he was a classic 'lounge lizard,' but in the best sense of that term. A perfectly sublime cabaret show."
—Stephen Hanks, BroadwayWorld.com
"Jeff was just terrific... in a 60's tux, looking terribly 'madmen,' it was a unique evening of the lyrics of Norman Gimbel... I know... look him up... and then you'll see why this was Such a delight!"
—Andrea Marcovicci
"This is one of those 'complete package' shows ­— great songs, great arrangements, great vocals, great writing, great presentation. I want to return and experience it again."
—Stu Hamstra, Cabaret Hotline Online
"It isn't merely a joy to behold but completely masterful. The evening is a bonafide winner on every possible count."
—Andrew Martin, Nitelifeexchange.com
"Macauley has come up with a winning show...the strength of the show lies in its cumulative effect: he's a damned good entertainer and storyteller, and he's presenting a wide-ranging palette of songs from, it turns out, one of our greatest and often underappreciated lyricists. What's not to like?"
—Kevin Scott Hall, bistroawards.com
Jeff Macauley is presented by Cabaret Obscura, which is devoted to promoting the Great American Songbook, and the maybe not-so-great American songbook represented by american pop hits of the last 100 years, specifically focusing on songs that may have fallen out of popularity but deserve a new, fresh hearing.
Don't Tell Mama is one of the oldest cabarets in the United States and is located in the theater district at 343 West 46th Street between 8th and 9th Avenue. The cover charge is $15.00 and there is a two-drink minimum.
Reserve at www.donttellmamanyc.com or www.jeffmacauley.com or by calling Don't Tell Mama at 212-757-0788.
Contact
Cabaret Obscura
Jeffrey Macauley
646 263 5894
www.jeffmacauley.com

Contact
Multimedia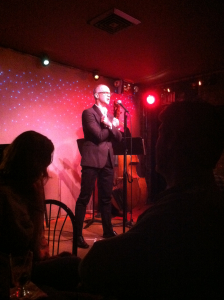 Jeff Macauley sings the Wonder Woman them with Tex Arnold on piano and Jon Burr on bass from "It Was Me-The Lyrics of Norman Gimbel" at Don't Tell Mama, Saturday, March 30th at 7:30pm.