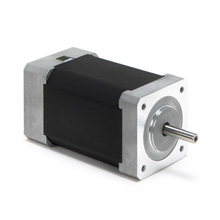 Greenville, DE, March 19, 2013 --(
PR.com
)-- Servo2Go.com has recently expanded its servo motor product offering by adding the ElectroCraft brushless servo motor line.
ElectroCraft RapidPower Nema 17 are small-sized, high-performance and high-speed brushless servo motors with ball-bearing construction, dynamically balanced rotors, and low audible and magnetic noise. The RP17 motors do not include brushes or a commutator.
The motors are compatible with all three-phase brushless DC motor amplifiers, and have optional 500 or 1000cpr encoders.
By utilizing M-8 ceramic and rare-earth neodymium magnets, these BLDC motors provide the quick acceleration and consistent speed (up to 8,000 rpm) needed for applications such as centrifuges, fans and pumps. Sealed ball bearings and reduced torque ripple from skewed magetization also ensure a smooth operation at any speed. Features include:
Speed up to 8000 RPM
Peak Torque: to 45 oz-in or 31.8 Ncm
High-efficiency, low cost design
2.5x torque, conventional PMDC
Low-energy NEO magnets
Die-cast end caps
Rolled steel housing
Dynamically balanced rotors
Ball bearing with springwasher
Hall effect device standard
Class B insulation
UL standard
Low clogging torque
RoHS compliant
Click on the link below for more information on the RP17 BLDC motor-
http://www.servo2go.com/product.php?ID=105478&cat
=
For more information, please contact:
Editorial Contact:
Warren Osak
sales@servo2go.com
Toll Free Phone: 877-378-0240
Toll Free Fax: 877-378-0249