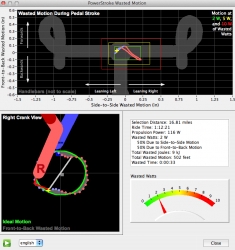 Boca Raton, FL, March 26, 2013 --(
PR.com
)-- Velocomp, makers of the iBike line of cycling power meters and iPhone-based bike computers, announced today a revolutionary technological advancement in cycling measurement and feedback with the new iBike® Newton PowerStroke technology.
For the first time ever, on an outdoor bike ride, cyclists can measure their pedaling style, cycling performance, and body/bike movement. PowerStroke technology quantifies wasted power, wasted time and wasted motion. It shows where to improve pedaling style, and quantifies improvements. Changing the game for cycling training.
"When cyclists ride there is always a wobbling movement between the bike and rider," says Velocomp CEO John Hamann. "Some amount of wobbling is natural but excessive wobbling equates to wasted motion and that means wasted power and wasted time."
How Does PowerStrokeTM work?
PowerStroke takes advantage of the high-speed data bus design of the iBike Newton power meter, and the accelerometer and pressure sensors used exclusively by the Newton. PowerStroke records data 16 times per second – ten times faster than any power meter in the world. This recording rate is so fast that motion can be determined even as the cyclist turns the bike crank. PowerStroke data is processed on a Mac or PC, with new, iBike IsaacTM software version 2.0. Isaac 2.0 reports Newton power measurement and ride data, and adds PowerStrokeTM measurements and analysis.
Learn more about PowerStroke data and Isaac PowerStroke analysis screens
.
A new way to Improve Cycling Performance
"PowerStroke changes the playing field, because it gives any cyclist a new way to train and improve performance, without spending thousands on bike parts," states Glenn Schneider, FL Masters State Champion, 2011 and 2012.
View the iBike PowerStroke Video
Measurements Virtually Indistinguishable from Direct Force Power Meters: The Data Says it All Second-by-second, the Newton's accuracy and consistency is amazing. The iBike Newton is virtually indistinguishable from a direct force power meter.
Everything You Need Is Included
PowerStrokeTM technology is available both in the new iBike Newton PowerStroke+ power meter, and as a firmware upgrade for existing iBike Newton owners.
The iBike Newton PowerStroke+ comes with all necessary sensors and mounting equipment. And use your bike the way you like it: no special head unit, crank, machined crank-arm, pedals, or special hubs and wheels are required. iBike Newton PowerStroke+ is available at
iBikeSports.com
as well as select bike shops world-wide.
iBike Isaac Ride Analysis Software Included
The iBike Newton comes complete with
iBike's IsaacTM
ride analysis software. Isaac includes ride analysis tools found in no other bike computer product or software, including detailed presentation of wind speed and hill slope: information that facilitates better understanding of riding style and bike race dynamics. And of course, TSSTM, IFTM and NPTM information is available both in Isaac and real-time on the Newton screen. With the ability to select between basic and advanced features, iBike Isaac is as valuable to riders who are new to power as it is to racers and experienced coaches. iBike updates, tips, and cycling training info is available on the
iBike Blog
and other social media channels.
TSSTM, IFTM and NPTM are trademarks of Peaksware, LLC