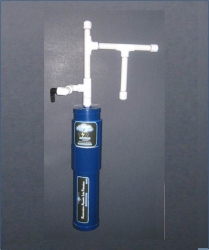 Southington, CT, April 02, 2013 --(
PR.com
)-- One of the biggest nightmares for aquarium enthusiasts is losing all their aquatic life due to a long-term power failure. During a power failure, lethal toxins quickly accumulate because current aquarium filtration is powered by AC voltage. Health- Tech Sales is the first company to offer battery powered multi-stage filtration (patent pending) which can be used during power outage emergencies. RALF will make its debut at Booth G5 at the Marine Aquarium Expo at the OC Fair & Event Center in Costa Mesa, California on April 6 - 7, 2013.
According to statistics from a National Pet Owners Survey compiled by the APPA (American Pet Products Association) there were 700,000 households with saltwater aquariums and over 11.9 Million households with freshwater from 2011 to 2012. While investment in the cost of setting up an aquarium varies, Bloomberg Rankings examined the initial setup costs for a 90 gallon saltwater aquarium to be as high as $17,334. Since power outages are becoming more frequent and longer in duration due to unprecedented super storms like "Sandy" in the Northeast, all these aquariums are vulnerable. According to the Eaton Corp's "2012 Blackout Tracker Report," there were 2,808 power outages in the US during 2012.
"RALF is a 12VDC Powered Multi-Stage Aquarium Filter, which means that it can be powered by a battery, solar power, car, or other source of DC voltage. It requires very little power and therefore can operate for long periods of time in the event of an AC power failure," said inventor Marc Rosenkranz. Using a standard sealed lead acid battery (similar to those used as backup in home alarm systems or UPS), RALF can provide multi-stage filtration, aeration, and water circulation for up to 8 days on one battery."
Rosenkranz added that the choice of a rechargeable sealed lead acid battery is both safe for indoor use and transport, as well as, cost effective. A low cost 15 hour battery can be recharged and used at a cost of approximately 1.6 cents per hour over the life of the battery.
"RALF offers an economical and practical advantage over generators, which are subject to the limitations of available fuel and space. For example, during 'Sandy' many New York residents had to travel to surrounding states to get gas because of station closures. Generators powered by natural gas were useless because lines were shut off to thwart fires. For people living in high rise buildings, generators are not even an option and the UPS solution doesn't offer a long enough power life at an affordable cost."
The product can be purchased with RALF AC Power Fail-Auto Start. RALF will automatically start in the event of an AC power failure with this option. This means that you can go on that vacation or business trip and in the event of a power failure your aquarium and its aquatic life will survive.
RALF's unattended restoration of filtration, aeration, and water circulation will reduce the stress on your aquatic life from a lack of filtration of harmful toxins, as well as, the owners stress. It is designed for large saltwater or freshwater aquariums. All materials used are aquarium safe.
RALF can be used in an aquarium sump or tank mounted. RALF has an adjustable tank mount that will accommodate an aquarium with or without a canopy.
"RALF is cost effective and designed not to just sit on a shelf waiting for a power failure, RALF can be used with a powerful new bottom cleaning accessory that utilizes the RALF Pump Head," added Rosenkranz. "The Director "Power Vacuum (Aquarium Bottom Cleaning Accessory - Patent Pending) does not have the pump in the handle. In its design, the RALF Pump Head & Power Source is external to the handle which provides the following benefits: a very powerful flow created compared to other aquarium bottom cleaners, as well as, interchangeable handles and a position directed suction head to reach difficult areas in the aquarium."
Water can be returned to the tank or removed from the tank while debris and aquarium sand is stored in a special canister. The sand can be returned to the tank and the debris can be discarded by rinsing the filter media.
RALF is also designed to be used on battery or with an AC power adapter for the following routine aquarium functions; water changes, supplemental filtration, and dispersing medications and/or additives.
RALF is also ideal for maintaining large healthy aquatic life during transport for research or relocation.
For more information about RALF (Restoration Aquatic Life Filtration) visit our website,
www.batteryaquariumfilter.com
or contact Marc Rosenkranz at
Marc@healthtechsales.com
or by phone: (860) 276-9638. If you are attending Marine Aquatic Expo, visit us at booth G5.