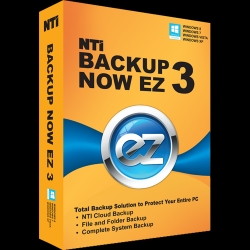 Irvine, CA, May 15, 2013 --(
PR.com
)-- NTI Corporation is proud to introduce NTI Backup Now EZ™ 3, the latest version of its popular total backup solution for Windows® PCs. Like its predecessor, Backup Now EZ™ 3 delivers a simple yet powerful solution for backing up and migrating computer data, while allowing users quick access to their backed up files whenever necessary. Among many new features added to this new Version 3.0, the most significant is backup to NTI Cloud™, a reliable online destination that is available 24/7. And for a limited time only, Backup Now EZ™ 3 is offered at a special promotional price of $19.99.
Research shows that many PC users today still suffer from data loss due to unexpected computer failure, malware, or even human error. NTI Backup Now 3 is designed so that when the unthinkable happens, users can easily retrieve specific files or folders, and can even recover the entire system.
In addition to Cloud backup, Backup Now EZ™ 3 delivers many convenient and powerful features through a newly designed GUI. "Backup Now EZ has always been rated as a best-in-class consumer PC protection software in the market today; its growing install base of millions of users attests to its quality and popularity. In this brand new version, we've made sure to deliver the same ease-of-use while adding more powerful features, and doing so at a lower cost that will fit every PC user's budget," said Bill Yao, President and CEO of NTI Corporation. "To celebrate our product launch and for a limited time, we will offer a special promotional price of $19.99 to download, which is a 50% off the full retail price of $39.99."
New Features in NTI Backup Now EZ™ 3 include:
· NTI Cloud™ Backup: An online backup protection with 24/7 availability through PCs or mobile devices
· Windows® 8 Support: Compatible with Windows® 8 and with advance feature such as support of UEFI & Secure Boot systems
· Easy Restore: Restore by category, file type, or specific file or folder
· Customizable Filtering: Allows users to add their own file types to pre-defined file types
NTI Backup Now EZ™ 3 is certified by Microsoft as compatible with Windows® 8, 7, Vista, and XP.
Pricing and Availability
NTI Backup Now EZ™ 3 is available through the NTI online store (
www.NTIcorp.com
) and at select retail outlets for a suggested retail price of $39.99 . Existing NTI Backup Now EZ™ users can upgrade to this new version for a discounted price of $19.99.
OEM licensing is also available for software bundling with PC systems, and storage hardware. The software is available as a multi-language version including English, French, Spanish, German, Italian, Dutch, Portuguese, Korean, Japanese, Simplified Chinese, Traditional Chinese, and Russian.
About NTI Corporation
An award-winning software developer, NTI creates innovative software products that combine ease of use, value, and cutting edge technologies. NTI's heritage spans over 20 years of consistently delivering feature-rich Desktop Backup and Digital Media software solutions. NTI developed one of the first CD-burning software products in the early 1990s and continues as a technology leader today with software products installed on over 200 million computers worldwide.