Robert Paisola, CEO of Western Capital, Explains How National Sub Prime Mortgage Defaults Are Expected to Hit All Time Highs and How to Protect Yourself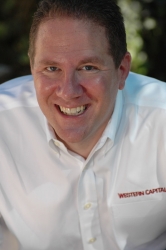 Salt Lake City, UT, August 09, 2007 --(
PR.com
)-- In the years 2005 and 2006, Sub Prime Mortgages were as easy to get as picking apples off of a tree. Now reality is hitting hard, as those Variable Rate Loans are coming to term. Millions of Americans are now locked out of the housing market.
In an Exclusive Western Capital Review, it is estimated that over half of the nation's home borrowers may soon be shut out of the home buying market.
"Yesterday we witnessed a National Mortgage Company with 3000 employees simply disappear" said Robert Paisola, the Chief Executive Officer of Salt Lake City based WesternCapitalFinancial.com
This extreme condition in the United States had previously been thought to have been contained to the fringe states of Texas, Florida and California, "Now the defaults are hitting the Midwest in record numbers" said James Smith with JamesSmithDirect.com , who is an International Speaker on the subject of real estate investing and an expert in the resulting impact that these types of loans will have on the American economy.
Robert Paisola suggests that anyone who has an adjustable rate loan that was taken out the last 2 -3 years, simply look at the financial impact that the additional loan payment amount will make in your monthly budget and immediately start to take proactive action with your financial institution. If you realize that you will not be able to make the payments agreed Deal with the Situation Now, Paisola said.
R.G. Williams, author and International Expert on the subject of Real Estate Investing, suggests that "every consumer that is potentially effected by an Adjustable Rate Mortgage, should stop and consider the long term effects that this type of mortgage payment increase will have on your long term financial health," he continued "some people will be hurt if they do not take action now, but the main thing to remember is that you must communicate with your lenders."
"Let me be clear on this, said Paisola, The Banks do not want your home back, they want to work with their borrower. Communication is the essential ingredient in working out your financial problems, And if you can pick up the phone and make that one simple call to your lender, and you will be half way out of your financial problems"
About the Author
Robert Paisola
is driven by a passion for people--motivating them to reach for the highest standards of success. As founder and president of many International Corporations including Western Capital and The Success Training Network, Robert trains sales and marketing professionals who want to strive to get to the top... and stay there.
His innovative, no-nonsense approach is based on applying what he has observed in his fifteen-plus years in sales, motivational speaking and debt collection training, thus revealing the common business habits of the top 20% of sales performers in all organizations.
Robert's approach works... that's why New York-based Success Magazine has rated Robert Paisola as one of the top-five most effective sales-training professional in the market today.
Robert Paisola's newest book was just released and is available on Amazon.com. Simply type Paisola in the main search field on Amazon.com. "Conversations of Success" was co-authored with famed author Dr. John Gray and Mr. Tom Hopkins. He has also just announced another co-authored book with Stephen R. Covey entitled Blueprint For Success
Robert Paisola speaks on an International Basis to support his foundation, The Western Capital Foundation. He is also a noted speaker on the topic of Real Estate and Investments.
Routinely Distinguished by The National Speakers Forum, Robert is also a regular contributor to Business Week Magazine, CNN, CNNFN, XM Satellite Radio, The Wall Street Journal, Telemundo International, National Public Radio and many other organizations. Robert Paisola is also an International Travel Writer and Certified Expert for magazines such as Conde Nast Publications and The National Geographic Society. His award winning investigative reporting articles have gained him worldwide recognition.
Robert is also a philanthropist, donating much of the money that he receives for his services working with Business Clients to assist in full business turnaround services, to charity. See www.WesternCapitalCharities.com
For more information on Robert Paisola's unique training programs, or to book Robert Paisola as a Media Guest, please visit www.WesternCapitalNews.com or contact Robert Paisola at Western Capital at robert@mycollector.com or at 1-877-517-9555 or visit www.RobertPaisola.net for a complete Biography.
www.WesternCapitalFinancial.com
###
Contact
Western Capital MyCollector.com
Robert Paisola
1-801-671-7843
www.mycollector.com

Contact