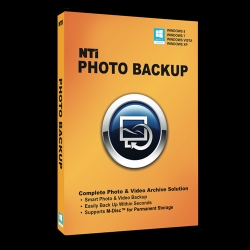 Irvine, CA, April 09, 2013 --(
PR.com
)-- NTI Corporation is proud to introduce NTI Photo Backup, a perfect solution to archive and protect precious digital photos and videos on an optical disc. Photo Backup's elegant design allows family members of any age to quickly archive large numbers of photos and videos with ease and have peace of mind knowing that all of the priceless memories are safely stored.
"People nowadays rely on digital photos to capture their precious moments in life, and NTI Photo Backup is the simple solution to help protect these invaluable memories," said Bill Yao, CEO of NTI Corporation. "The optical media is ideal for digital archival purpose," Yao reiterated, "it is recorded once and preserved forever and thus safe from unexpected risks such as computer failures and viruses."
NTI Photo Backup's Key Features:
Convenient Organization
NTI Photo Backup supports a wide range of today's popular photo and video formats. All the photos and videos can be sorted and viewed by folder or timeline. All backed-up photos and videos are marked so the users can easily recognize which files have been backed up.
Ease of Use
NTI Photo Backup is designed to be as easy to use as possible. Simply view, drag, drop, and burn. And that is all there is to it.
Preview with Ease
Glance at all the photos via an instant slideshow by simply hovering the mouse cursor over each file folder without having to open the folder manually.
Set-it and Forget-it Setting
NTI Photo Backup can continuously archive photos and videos onto the unused space on a backup disc. There is no need to replace the disc until it is full.
Memories that will Last Forever
Backing up photos and videos onto optical discs can be beneficial in case a computer crashes or is attacked by a virus. NTI Photo Backup also supports the M-Disc™, which is designed for permanent storage. For more information about M-Disc™, visit http://www.mdisc.com
Retail and OEM Availability
Designed for Windows 8, 7, Vista, and XP. The MSRP for NTI Photo Backup is $19.99 and is available now to download at NTI's online store for just $9.99:
www.NTIcorp.com
NTI Photo Backup OEM licensing is also available for software bundling with PC Systems and Optical Drives. The software is available in multi-language versions including: English, Dutch, French, German, Italian, Japanese, Portuguese, Russian, Spanish, Simplified Chinese and Traditional Chinese.
About NTI Corporation
An award-winning software developer, NTI creates innovative software products that combine ease of use, value, and cutting edge technologies. NTI's heritage spans over 15 years of consistently delivering feature-rich Desktop Backup and Digital Media software solutions. NTI developed one of the first CD-burning software products in the early 1990s and continues as a technology leader today with software products installed on over 200 million computers worldwide.
NTI Corporation Global Headquarters
9999 Muirlands Blvd., Irvine, CA 92618, USA. Phone: +1-949-421-0720, Fax: +1-949-421-0750. www.NTIcorp.com. Additional offices are also located in Guangzhou, China and Taipei, Taiwan.