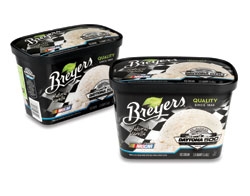 Norwalk, CT, April 17, 2013 --(
PR.com
)-- Breyers® is an American classic Ice Cream brand strongly anchored in family values. Breyers brings families together, both physically and emotionally and creates timeless family bonds.
NASCAR is America's largest spectator sport, with the Daytona 500 being the grandest of all of the races.
The Breyers team selected TFI Envision, Inc. to develop the graphics for a special pack for Kroger stores. The Kroger Daytona 500 Breyers special pack combines the comradery of the NASCAR culture and the togetherness of Breyers Ice Cream. NASCAR fans are also particularly fond of all NASCAR memorabilia, so the Daytona pack offers NASCAR fans/consumers an iconic version of their favorite vanilla ice cream.
TFI Envision was tasked with maintaining the integrity of the Breyers packaging standards while incorporating the NASCAR / Daytona message. To further differentiate this pack from the staple products and bring attention to it on shelf, TFI Envision incorporated a waving racing flag, traditionally used to communicate important messages to drivers. The side panel on the pack provides engaging Daytona® Fast Facts.
The Kroger Co. (NYSE:KR) is one of the world's largest grocery retailers, with fiscal 2012 sales of $96.8 billion. Kroger's Family of Stores spans many states with store formats that include grocery and multi-department stores, discount, convenience stores and jewelry stores.
A Little Brand History on Breyers®
In 1866, as America recovered from the Civil War, William A. Breyer of Philadelphia hand-cranked his first gallon of ice cream. It was a special ice cream consisting of rich cream, pure cane sugar, fresh fruits, nuts and other flavors – some of the very same ingredients used today. He sold it to his neighbors with the promise that his ice cream was made with the finest ingredients. Word spread quickly, and Breyers® Ice Cream was soon declared Philadelphia's best. Breyer opened his first retail ice cream shop in 1882. Within a short time he and his family opened four more shops. Breyer continued to make all of the ice cream in the back of one of the shops, cranking it by hand and delivering it with his horse drawn wagon.
Fast forward to 1993, Unilever bought Breyers® Ice Cream from Kraft and made it part of the Gold Bond-Good Humor Ice Cream Company in Green Bay, Wisconsin, renaming the company the Good Humor-Breyers® Ice Cream Company. Today, Unilever continues to own and manage Breyers® and is based in Englewood Cliffs, N.J.
http://www.breyers.com/home/about
Since 1975, TFI Envision, Inc. of Norwalk, CT, has specialized in developing strategic design and marketing solutions for branding, packaging, promotion, digital and corporate communications; helping organizations achieve their marketing and communication goals with compelling, consistent messaging that is on brand and on target.