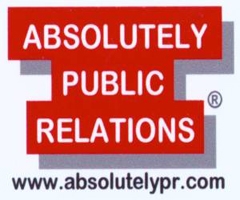 Denver, CO, August 16, 2007 --(
PR.com
)-- Denver public relations consulting firm, Absolutely Public Relations, seems to have a new receptionist answering the phone. But, one moment please, is that a new employee? "No, not at all," Maggie Chamberlin Holben, APR, owner and founder of Absolutely PR, explains. "It's CBS4 Anchor Jim Benemann (http://cbs4denver.com/bios/local_bio_115004037.html) making good on the silent auction prize he donated to the Denver Press Club (DPC) for the 2007 Damon Runyon event."
"It's all in fun and all for a very good cause at the Press Club," Holben, a DPC member for a number of years, says. "The DPC funds scholarships for university journalism students, fostering the best in student journalism. Awards at this year's event included the Runyon Scholarship Awards and Al Nakkula Police Reporting Award."
This year's Damon Runyon event honored Emmy-award winning NBC and HBO sportscaster Bob Costas. He received the DPC's 13th annual Damon Runyon award during a sold out banquet at the Westin Tabor Center on June 22. Information about Costas' extensive broadcasting achievements is found at http://www.hbo.com/costasnow/bios/bob_costas.html.
Previous winners of the DPC's Damon Runyon award include Jimmy Breslin, Mike Royko, Molly Ivins, Herb Caen, Pete Hamill, Ted Turner, Maureen Dowd, Tom Brokaw, David Halberstam, Ed Bradley, Carl Hiaasen, Seymour Hersh and George Will.
About The Denver Press Club
Located at 1330 Glenarm Place in the heart of downtown Denver, the DPC is available for private rentals for events such as weddings, birthdays, anniversaries, press conferences and corporate meetings. For more information, contact the manager Carmen Green at 303-571-5260 or e-mail at denverpressclub@qwest.net. The website for the club and its extensive event roster is http://www.denverpressclub.org.
About Absolutely Public Relations
Absolutely PR specializes in media relations. Earlier this year, Holben recapped these successes/results:
* Baxa Corporation's media relations campaign, begun in 2003 and managed by Absolutely PR since, has exceeded 27 million in circulation reach/impressions and more than $537,000 in dollar value based on ad value equivalency metrics. Absolutely PR is participating in its fifth media relations contract with Baxa Corporation for consulting services in 2007.
* Absolutely PR represents a Fortune 500/ S&P 500 ranked company for Colorado and Denver editorial localization. Midyear last year Wyoming, Utah, New Mexico and Kansas were added to Absolutely PR's area of focus for the national concern. In 2006, 22 placements were achieved locally for the organization, including coverage on Newsradio 850 KOA and CBS 4 Denver for an August event. Absolutely PR also handled the launch for the company's new auto insurance product in Colorado in late November. Placements for the auto insurance rollout were achieved in the Denver Business Journal Online, dBusinessNews Denver, Denver Post, Boulder Daily Camera, Colorado Springs Gazette, Pueblo Chieftain, Loveland Daily Reporter Herald and The Business Times of Western Colorado.
* In Holben's role as a board member of the Colorado Bioscience Association (CBSA), she serves as chair of the association's Communications Committee and assists with media relations efforts for the organization. In 2006, 113 placements were recorded for CBSA (up from 28 in 2005). The 2006 CBSA media relations campaign exceeded 7 million in circulation reach and more than $94,000 in dollar value based on ad value equivalency metrics.
* Holben was named CBSA "Partner of the Year" at the annual awards dinner held last year in conjunction with the 2006 BioWest Conference & Expo. In presentation remarks, Rob Reuteman business editor of the Rocky Mountain News and master of ceremonies for the event. shared these comments on behalf of CBSA: "Holben, founder of Absolutely Public Relations, has worked tirelessly to promote the Colorado bioscience industry message to local and national media. Holben works her public relations magic to promote coverage of Colorado events and industry news. Moreover, she chairs the CBSA Communications Committee, serves on the CBSA Board of Directors, and helps to organize incoming press delegations. She coordinates the industry's media initiatives with CBSA partners, such as the Metro Denver Economic Development Corporation. As a media consultant, Holben represents several of Colorado's leading bioscience companies. Due to Holben's professionalism and effort, Colorado's bioscience industry isn't such a secret anymore."
* Further last December, Maggie Holben was interviewed and quoted as a PR expert by the Rocky Mountain News in an article about Congressman Tom Tancredo and using controversy as a PR tactic. Holben's expert profile and related links are found at http://expert411.com/_wsn/page2.html.
* Holben also wrote the bylined article, "Effectively using PR tactics: Seven tips to boost brand awareness," for the ColoradoBiz Magazine's online "Your Biz" section: http://www.cobizmag.com/articles.asp?id=1296.
* Holben's PR articles are also posted on the national Evan Carmichael "Motivation and Strategies for Entrepreneurs" website, found at
http://www.evancarmichael.com/Public-Relations/239/summary.php.
Absolutely Public Relations has been in business since April 1999. Clients include: Baxa Corporation, Englewood, CO; Colorado Bioscience Association, Denver, CO; a Fortune 500/ S&P 500 ranked company (for the Colorado, Wyoming, Utah, New Mexico and Kansas area): and Holben Building Corporation, Denver, CO. The company maintains several websites to maximize exposure and attract media attention for contracted and indemnified clients. These sites include:
http://www.publicrelationsnewsroom.com
http://www.expert411.com
http://www.denverprnewsroom.com
http://www.online-presskit.com
In addition to membership in the Denver Press Club, Absolutely PR/Maggie Holben maintains memberships in the American Marketing Association, Business Marketing Association, Colorado Bioscience Association, Colorado Healthcare Communicators, Colorado Women's Chamber of Commerce, Denver Metro Chamber of Commerce, Leadership America, and the Public Relations Soceity of America (including accreditation since 1985, Counselors Academy since 1996 and the Independent Practitioners Alliance).
For more information about Absolutely Public Relations, go to
http://www.absolutelypr.com
. For further information about Maggie Chamberlin Holben go to http://www.maggieholben.com or call 303-984-9801.
###