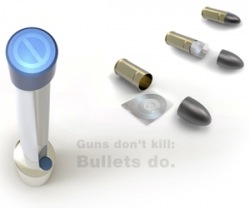 Chicago, IL, May 15, 2013 --(
PR.com
)-- About IDEA Awards 2013
Started in 1980 by IDSA, the International Design Excellence Awards program (IDEA®) fosters business and public understanding about the impact of design excellence on the quality of life and the economy. The IDEA program is considered one of the most preeminent design competitions in the nation with its scope and influence reaching far beyond U.S. boundaries.
The challenge is to provide a technical & design solution to address the issue of gun control and gun violence. It is Project TRGR's premise that a seemingly simple idea can spawn a systematic and logical solution to protect our schools and institutions from deranged individuals. It is the project's further assumption that live ammunition poses a greater threat to society than the gun itself. A weapon is only lethal if it is loaded. Bullets are miniature bombs. An estimated 10 billion bullets are consumed in the US every year. The majority of gun owners and users purchase their ammunition from a handful of manufacturers. Addressing ammunition with a sensible solution could potentially be a boon to the gun industry, and a win-win for public safety advocates. The infrastructure to support the detection of RFID enabled bullets could be no more challenging to install than retail security towers. Information and detection of live ammunition helps to reduce the debated effects of assault rifles, high capacity cartridges, and weakens the controversy over 3D printing technology.
Project TRGR circumvents divisive elements of the contemporary debate regarding the 2nd Amendment right to own firearms. Information and detection of live ammunition will empower the public and reduce gun violence, and weaken the controversy over 3D printing technology. Additionally, as a large scale public works design project, this concept could contribute to economic development, as well as contribute to the general welfare of law abiding citizens. The aesthetic design of the RFID relay towers are minimal, and project a 'sentinel' personality. They serve functionally, and as a symbol of deterrence and safety. Designed to house electronic radio emitting components, the concrete base, strong aluminum lineal, and poly-carbonate lenses coordinate to calm nerves and command attention.
http://www.ylinedesign.com
http://www.ylinedesign.com/trgr/
Headquartered in Chicago, IL, Y Line Product Design is a fresh and innovative Product Design Innovation and Development Consultancy.