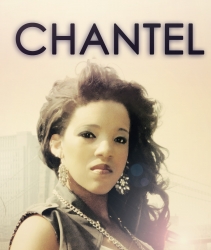 Atlanta, GA, June 04, 2013 --(
PR.com
)-- International Recording Artist, Songwriter, Producer and Philanthropist Chantel Hampton fuels her flourishing career by signing an exclusive Marketing and Distribution agreement with distribution leaders Tate Music Group and E1 Distribution. Hampton's non-profit music production company brokered this agreement with Tate Music Group to release her much anticipated project, Signature Life - featuring personally penned and produced music in late August 2013.
Chantel Hampton is a singer, songwriter, producer, engineer, minister and educator with a passion to create global music. At 14, Hampton asked her father, a Pastor and music producer, to train her to be an artist, singer and songwriter. The decision she made caused her to forfeit normal adolescence and decisively develop her remarkable skills to become a leader in her craft. After graduating at the age of 16 from the prestigious Weston High School, she entered Berklee College Music in Boston, MA on a full four year scholarship where she graduated with honors in Music Business and Management. While remaining a dedicated student, Hampton also developed her career by meeting with leading executives, recording artists, attorneys from all over the world and toured internationally singing in front of crowds of over 30,000! After years in the music industry, Hampton stepped back from pursuing her performance career to spend time developing her songwriting career and developing her non-profit company Signature Music Design under the direction of her father, Leroix Hampton III, who has over 25 years of production and executive experience. In addition to all her musical accomplishments, Chantel Hampton has joined Berklee College of Music as the youngest faculty member of this prestigious musical institution.
Signature Music Design is a Not-for-profit organization developed to provide philanthropic activities, aid and support to various charity and educational programs throughout the world. Through the use of Music, Education and Marketing – SMD utilizes revenue and exposure garnered through music sales, performances, donations and educational programs and events to support charitable programs and train up and coming industry artists and executives. Signature Music Design was established to revolutionize how the music industry operations by primarily focusing on philanthropy, training, empowerment and collaboration. Signature Music Design has released an online tutorial program called 'Virtual Record Label' which provides hands on training, real life industry projects and personal lessons from leading songwriters, producers, performers and industry executives. The next session of VRL Online tutorial program launches June 17th, 2013 at
www.vrltraining.com
.
Now with an unshakeable musical and spiritual foundation, Chantel Hampton is preparing to release Signature Life a collection of personally penned and produced tracks through her publishing company ChannelFM- geared to encourage, uplift and celebrate the unshakeable strength and power of today's woman. "I am extremely thrilled about our partnership with Tate Music Group and the opportunity we have to deliver our message and music to broader audience! With Signature Music Design our focus is always mission before the music and the whole vision of the 'Signature Life' project is to use music to unite and celebrate the beauty, strength and greatness of women!" says Hampton when asked about this project.
"We are excited about working with Tate Music Group and E1 distribution because it's so refreshing to partner with an organization that shares the same values as us. We look forward to working on and releasing many more projects with them! This is a major milestone for Signature Music Design!" says Leroix Hampton, President of Signature Music Design and Hamptons longtime producing partner and manager.
Passionate, Revolutionary and an unearthed treasure, Chantel Hampton is slated to be one of 2013's Artists to watch as she returns to the performance and ministry stage with a collection of songs for all ages, styles and stages in life. Fueled by the desire to restore the power of music and utilize her gifts to uplift, empower and support. All proceeds of the Signature Life project will be donated to the charitable efforts of Pearl Alliance and SMD Educational Outreaches.
About Tate Music Group:
Tate Music Group is a Christian based record and distribution company based in Mustang, OK providing recording, marketing and distribution services for Artist who have a worldwide message. Tate Music Group has developed a new standard in the music industry through international distribution with the largest independent distribution company – E1 Distribution. Its parent company – Tate Publishing & Enterprises, LLC, is a Christian-based, family-owned, mainline publishing organization with a mission to discover unknown authors. We combine unknown authors' undiscovered potential with Tate Publishing's unique approach to publishing and provide them with the highest quality books and the most inclusive benefits package available.