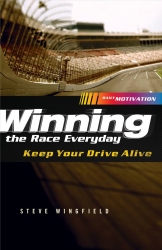 Harrisonburg, VA, May 29, 2013 --(
PR.com
)-- Steve Wingfield offers 365 Days of Inspirational Reading.
The Steve Wingfield Evangelistic Association (SWEA) in association with Victory Weekend announced today the release of its long-awaited devotional "Winning the Race Everyday." Published by Regal Books, the book is slated for release on June 12, 2013.
"Winning the Race Everyday", a 365-day devotional is based on Steve's popular "Keep Your Drive" Alive Series. Endorsed by nationally published authors and friends in the motorsports community, "Winning the Race Everyday" features a race-themed "flag" system to guide readers through its pages.
"The realization of a long-time dream is about to happen and I am very excited," said Steve. "People asked me, 'how do you come up with your Keep Your Drive Alive devotions month after month, year after year?' This encouraging devotional is a written reflection of many years serving people and it's my hope that the reader will draw nearer to God and to be motivated for the 'life race' all of us face each and every day."
A recognized author, Steve has written several inspirational books and has co-authored two best-selling books. Titles include: "Come to the Table" and "Share the Bounty" (both co-authored with Benita Long), "The Bible Promise Book", "The Friendship Book", "Live the Adventure", and now this new daily devotional release, "Winning the Race Everyday."
"Winning the Race Everyday" will be available in hard back book and e-book at victoryweekend.com, through North America retailers and worldwide through amazon.com, barnesandnoble.com and other online retailers.
About Steve Wingfield
Steve is the founder and CEO of the Steve Wingfield Evangelistic Association which is the base non-profit for Victory Weekend Motorsports Outreach headquartered in Harrisonburg Virginia. A Virginia native, Steve has been in ministry for forty plus years, serving as a pastor before devoting himself to full-time evangelism. Steve has been married for over 40 years to the love of his life Barbara. They both live and raised two children in Virginia and currently have six grandchildren and growing.
To know Steve is knowing he lives, eats, and breathes evangelism. Now fulfilling his long-time dream of fan based outreach at motorsports venues through "Victory Weekend" events in North America. Steve and the Victory Weekend team are providing family-centered entertainment that strives to meet people right where they may be in life.