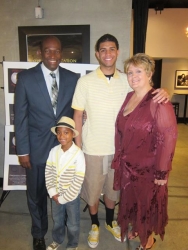 Denver, CO, June 06, 2013 --(
PR.com
)-- Director Darla Rae and Film It Productions whose latest film "Spirit of Love," the Mike Glenn story has requested a screening at the White House in support of diversity and disabilities. They are launching a campaign requesting that the first family consider their film for a family film night at the White House.
Based on the Obama administration's recent position to do more to provide extracurricular sports activities for students with disabilities "Spirit of Love" could help their cause as well as provide a great example of what those with disabilities can do in sports and film. Two areas which seem to be lacking as career options or choices for youth with disabilities to even consider as an option.
The film is based on the real life basketball camps of retired NBA player Mike "Stinger" Glenn who has been giving to America's deaf and hard of hearing youth for 34 yrs. In the film deaf & hard of hearing teens join Glenn who plays himself in the movie and all deliver an authentic and charming performance.
"When I started this film project I wasn't sure where we were going, but as I worked with the kids I realized we were sending a bigger message. Sometimes you have to raise the bar.
"In order to see where someone can go, you have to push their boundaries. You can't do that if they don't have options. The White House opted to screen films which address diversity and racial prejudice, by screening "42" about the great Jackie Robinson, and Beasts of the Southern Wild. Now we're asking them to add diversity with disabilities. Our cast members have had to overcome disabilities from several angles. While deafness is the main disability represented in our film, we have kids with Dandy Walker Syndrome, Aspergers, and one who survived being born drug addicted. The day those kids stepped on the basketball court to audition was the day they raised their own bar. We want President Barack Obama and the First family to see firsthand how sports and film (Arts) can be options, for those with disabilities. We've requested directly through the White House website, and sent letters to Senator Linda Newell's office of Colorado asking for help. I know Linda and she supports education, kids, and the arts. So now we wait on those and continue the campaign," said director, producer Darla Rae.
In the past Rae has been successful screening her film "Dandy Kids" on Capitol Hill in DC to gain support for families whose children have Dandy Walker Syndrome. Her films raise awareness while Educating, and Inspiring audiences.
For more information please visit http://spiritoflovemovie.com/ or contact us at 323-522-4179