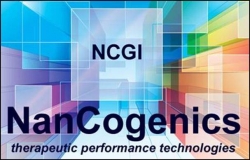 Houston, TX, June 08, 2013 --(
PR.com
)-- In a series of journal publications and technical presentations, culminating with the recent BioNanoMed 2013 Conference in Krems, Austria, this April, the Co-Founders of NanCogenics have presented a novel methodology for the tumor-directed targeting of chemotherapeutics for systemic administration. The Company is now advancing the technology platform on an initial clinical path as a treatment modality for breast cancers.
The tumor-targeting technology platform is based on the use of external magnetic field gradients, generated by small permanent magnets that cause the therapeutic, tied to magnetic nanoparticles, to collect at a tumor site, whether primary or metastatic. Subsequently, the external magnetic gradient enables and enhances the movement of the therapeutic-nanoparticle complex into the tumor environment where the drug is "activated," resulting in a significant anti-tumor response. As a potential clinical procedure, the treatment modality is anticipated to provide cancer therapeutics having significantly higher therapeutic efficacy and effectiveness, with minimal side effects.
The Company's announcement comes amidst news from other research groups in Asia and Europe, that magnetic nanovectors offer significant promise for targeted or localized drug therapy. As noted by NanCogenics Co-Founder Dr. Jim Klostergaard, Professor at The University of Texas MD Anderson Cancer Center, "There is an emerging realization that despite much effort, the prevailing approach to development of targeted therapeutics has yielded too few clinical successes, and that the plasticity of tumors and the range of their mutations may undermine the basis for targeting individual signaling pathways." Dr. Klostergaard further points out that the NanCogenics approach adds a biophysical targeting component for localized delivery, intended to advance drug targeting technology significantly beyond conventional targeting methodologies.
The Company's use of arrays of small permanent magnets that shape and focus the magnetic field gradients, with the capacity to target both superficial and deeper-seated visceral tumors, whether primary or metastatic, offers the potential for individual "design" for a personalized treatment approach. The compactness and modular design of the Magnetic Localization Unit also presents a mobility feature, offering a capability to reach under-served populations, in addition to centers within established healthcare facilities.
The Co-Founders and Management Team of NanCogenics see the Company as a resource for the enhanced performance of therapeutics in general, and specifically for cancer therapeutics, delivering more drugs to the target site and less to normal tissue. The capacity to localize therapeutic agents in high concentrations at the tumor site, without the harmful side effects, will lead to more effective treatment regimens, greater patient compliance to therapy and improved outcomes, such as patient quality of life, longevity and survival rates.