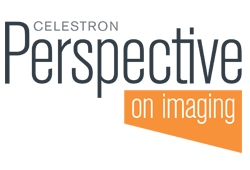 Torrance, CA, June 19, 2013 --(
PR.com
)-- With amateur astronomy on the rise, the niche of astroimaging has expanded as an advanced next step of the hobby that produces otherworldly, beautiful results. As demand for a deeper understanding and better equipment grows, Celestron, the world's #1 telescope maker, is ready to delve into all things astroimaging at their first annual Perspective…on Imaging event, held June 19-20, 2013, at the Portofino Hotel and Resort in scenic Redondo Beach, California.
The invite-only two-day event will consist of a series of informational presentations and workshops by both imaging experts and Celestron product developers. All are designed to educate industry professionals, media, dealers, and retailers all about planetary and deep-sky astroimaging and the many ways in which Celestron products are attuned to this highly technical yet profoundly rewarding pursuit.
"Celestron sincerely thanks all of its attendees for committing to Perspective…on Imaging to make it a truly memorable event of fun, knowledge, and fellowship around the shared passion of astroimaging," said Dave Anderson, CEO of Celestron. "We hope that it will be the first of many amazing Perspectives to come!"
Perspective's keynote speakers have travelled from all over the world to share their combined expertise on a wide range of subjects, from the technicalities of imaging equipment to developing an artistic eye for astronomical subjects. Their workshops will take place throughout the day on June 19:
· John Davis is famous not only for his Oscar-nominated brainchild Jimmy Neutron: Boy Genius, but also for the vibrant deep-sky mosaics he captures out at Bucksnort Observatory in Texas. He'll be examining imaging from an aesthetic edge with his "Art in Astroimaging" workshop.
· Christopher Go has been an amateur astronomer since 1986, the year of the return of Halley's Comet. From his home on the island of Cebu in the Philippines, Go captures stunning shots of Jupiter, Saturn, and other planets, and will share his secrets in "A Guide to Modern Planetary Imaging."
· Thierry Legault's talent for satellite imaging is so well-known, he even has his own asteroid—19458, officially christened "Legault"—while back on Earth, his shots of space shuttles and stations have been published worldwide. Legault will teach attendees all about "Imaging the Moon and Satellites" for their own posterity.
· Warren Keller has built a career both taking incredible deep-sky astroimages and educating amateurs on the finer points of creating their own. The co-creator of Celestron's AstroFX software, he'll go into detail about how to use it in imaging in the "AstroFX and Nightscape" workshop.
· Robert Reeves has been actively imaging the sky for 54 years, and has experienced firsthand the evolution of astrophotography equipment and techniques. He utilizes his decades of knowledge to teach today's amateur astronomers the essentials of imaging, including in the "Planetary Imaging for Beginning Explorers" workshop.
· Bryan Cogdell is not only Celestron's astronomy product manager, but also an accomplished deep-sky imager. An advocate of affordable astroimaging for the budget-minded amateur, he'll team up with Keller on the "AstroFX and Nightscape" workshop as well as present an overview of Celestron's EdgeHD white paper.
The workshops are bookended by a Celestron facility tour, product demonstrations, and introductions to Celestron's many beneficial partners. Plus, there will be more than a few exciting surprises in store. Visit
CelestronPerspective.com
for more details.
About Celestron
Celestron is a leading designer, manufacturer, and importer of high-quality optical products including computerized and non-computerized telescopes and related accessories, GPS devices, binoculars, spotting scopes, and microscopes. Since manufacturing its first telescope in 1960, Celestron has grown to become the world's #1 telescope maker, and enjoys brand-name recognition among serious amateur astronomers for superior optics, outstanding design, and innovative technology. Celestron's extraordinary products continue to receive numerous industry and consumer media accolades, adding to an already impressive list that includes awards for product innovation from Reader's Digest, Popular Science, PC Magazine, Popular Mechanics, the Consumer Electronics Association, and more. Celestron is a privately-held company with corporate offices and manufacturing facilities in Torrance, California.