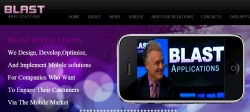 New York, NY, July 09, 2013 --(
PR.com
)-- Blast Applications, Inc. (OTCBB: BLAP) announces today its own radio show http://www.blastapplications.com/page/blogtalk-radio
Blast Applications Radio started last February with the simple idea of branding their company, and since then they have had many business people, lawyers and well known artists, such as BJ Thomas, as guests on their talk show. Blast Applications Radio is especially pleased to have established a strong relationship with female Rabbi Tobi Rubinstein Schneier, who has been hosting her own radio show "The House of Faith N Fashion" through their platform.
http://www.blastapplications.com/page/rabbi-tobi-rubinstein
"We have opened a new window of opportunity for our company. Not only have we grown from a small show to more than 15,000 listeners, we have also seen the interest in our company, Blast Applications, grow as our listeners as well as our guests have become more and more aware of our services and marketing. In these first few months, we have witnessed the interest for new clients and business partners due to the services being discussed. There is a great desire for the marketing that Blast Applications provides. More special guests will follow!" promises Dino Luzzi, CEO of Blast Applications.
About Blast Applications, Inc:
Blast Applications, Inc. marketing and developer of applications for iPhone®, Twitter® Facebook® and Nokia with unique opportunity to monetize the web surfer's dedication to social media sites through direct advertising programs tied to the Company's tools, applications and websites. For more information please visit www.blastapplications.com.
Forward Looking Statements:
This release contains "forward-looking statements" and information provided by Blast Applications, Inc., such as online, printed documents, publications or information available via Blast Applications, Inc's website. It may contain certain forward-looking statements that involve risks, uncertainties, assumptions and other factors, which, if they do not materialize or prove correct, could cause Blast Applications Inc.'s results to differ materially from historical results, or those expressed or implied by such forward-looking statements. All statements, other than statements of historical fact, are statements that could be deemed forward-looking statements, including statements containing the words "planned," "expects," "believes," "strategy," "opportunity," "anticipates," and similar words. These statements may also include plans, strategies and objectives of management for future operations; any statements regarding proposed new products, services or developments; any statements regarding future economic conditions or performance; statements of belief; and any statements of assumptions underlying any of the foregoing.
www.blastapplications.com
investor@blastapplications.com