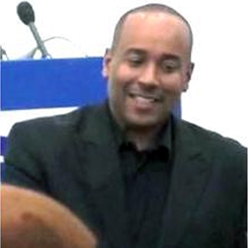 Manhattan, NY, July 22, 2013 --(
PR.com
)-- In August 2008, Book Author and Talk Radio Host Alan Roger Currie was invited to be a dating and relationships expert on the "Relationships 101" segment of the national morning television talk show, "The Morning Show with Mike and Juliet" ('Mike and Juliet,' which previously aired on the FOX Network, was canceled in June 2009).
Currie said he was excited to express some thoughts and opinions related to today's dating scene in front of a national television audience, but he was disappointed that he was never asked a question related to his popular self-help book for single heterosexual men entitled, "Mode One: Let the Women Know What You're REALLY Thinking."
"I thought I would be asked at least one question related to the contents of my 'Mode One' book, but I guess that was not in the plans of the show's producers," said Currie, who in addition to being a book author and public speaker, is also a professional dating coach and advisor as well as the Host of a popular talk radio show on the BlogTalkRadio Internet Radio Network entitled, "Upfront & Straightforward with Alan Roger Currie"
This weekend, Currie will once again be in Manhattan, but this time he will not be speaking in front of a national television audience. Instead, he will be the headline speaker for a weekend conference for single men known as "The Direct Dating Summit" (DDS). The DDS has sponsored weekend conferences in Berlin (Germany), Las Vegas, London (England), and Melbourne (Australia).
The weekend conference is designed to help single heterosexual men improve upon the weaknesses in their interpersonal communication skills with women, and gain the opportunity to interact with a number of different professional dating coaches, attraction and seduction gurus, personal stylists and lifestyle coaches, and other men's self-improvement speakers. A few of the speakers are known as "Pick Up Artists," but Currie frowns on that term.
"I am not a Pick Up Artist, never have been, and I will never refer to myself as such," said Currie, who conducts personal consultation sessions with men in up to twenty-five different countries via email, Skype, and telephone. "I describe a 'pick up artist' as a man who employs psychological gimmicks, pleasant lies, and manipulative 'head games' in order to persuade naive and unsuspecting women into having sex with him," added Currie, who was born and raised in Gary, Indiana and is an alumnus of Indiana University in Bloomington, Indiana.
Currie's book, "Mode One," is designed to help men overcome their fear of being rejected by women and their fear of receiving harsh criticisms and insults for letting women know what is really on their mind. "The vast majority of single men in society are extremely dishonest and disingenuous with women in their first few conversations with them. The most prominent thoughts on most men's minds with women is having sex with them, but many men feel that if they mention anything to do with sex in their first conversation with a woman, that they will be perceived as 'rude' or 'disrespectful.' I explain in detail in my books why I totally disagree with that belief."
Currie has written and published three additional books since the release of 'Mode One' in 2006, including "Oooooh . . . Say it Again: Mastering the Fine Art of Verbal Seduction and Aural Sex" (2011) and "The Possibility of Sex: How Naive and Lustful Men are Manipulated by Women Regularly" (2012). Currie has received thousands of testimonials from men in a number of different countries all over the world who have shared with him how his books have helped them transform their lives for the better, and helped them significantly improve their interpersonal communication skills with women of interest.
"A number of men have referred to me as the 'father they never had' or the 'big brother' they never had. Comments like those are very flattering to me and highly appreciated. My number one mission in life is to help all of the 'frustrated nice guys' of the world who are trying their best to avoid having the women they are acquainted with place them in the dreaded 'friend zone' and continue to treat them more like a 'platonic play brother' than a potential romantic partner."
The fifth Direct Dating Summit Weekend Conference for Men will be held in Manhattan on Saturday, July 27 and Sunday, July 28, 2013. More information about the event can be found by visiting http://directdatingsummit.com/nyc/ Currie's books can be found on Amazon.com (www.amazon.com/Alan-Roger-Currie/e/B002BLQ9Q0/) and BarnesAndNoble.com