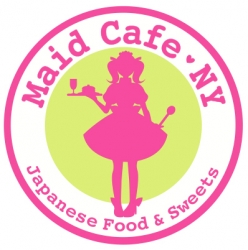 New York, NY, August 07, 2013 --(
PR.com
)-- Horizon Enterprise Group, Inc. is pleased to announce that Maid Cafe NY will hold a Grand Opening on August 18th, 2013 from 11am – 3:30pm at 150 Centre Street, Downtown, NY. Maid Cafés are popular, and there are Maid Cafés all over the world, including Japan, China, Canada and France, but not in New York, America's most fascinating city in the world. Maid Cafe NY will be the first "Maid Café" in New York and on the entire East Coast of America.
Maid Cafe NY is a theme café, hoping to interest young adults by offering unique Japanese food, drink and merchandise served by professionally trained servers dressed in cute maid outfits in a fashionable Japanese pop setting. Food and drink include Japanese curry, various Matcha Green Tea sweets, frozen yogurt and Japanese style parfait and crepe will be served. Maid Cafe also offers occasional live music entertainment. Therefore to celebrate the opening of Maid Cafe, there will be various J-pop performances at Mika Japanese Cuisine & Bar, Maid Café NY's sister restaurant, an authentic bar-centric Japanese restaurant which is located at 2nd floor of 150 Centre Street. Guests to perform at the grand opening will include Reni Mimura, Uncle Yo, Maids from Maid Café NY, Hitomo Hime, Moe Moe Honey and DJ MASA from 11am, and it ends at 3:30pm.
What is a Maid Café?
Maid cafés are restaurants serving traditional Japanese food and desserts, with a staff of primarily young, cute waitresses and entertainers. In these cafés, waitresses dressed in maid costumes. The first Maid café was established in Tokyo, Japan in 2001 but maid cafés are becoming increasingly popular. They have since expanded overseas. Maid cafés were originally designed primarily to cater to the fantasies of male "otaku," obsessive fans of anime, manga and video games. However today the maid café phenomenon also attracts couples, women tourists.
More information is available on Maid Cafe NY official website and Facebook page.
http://www.MaidCafeNY.com
http://www.Facebook.MaidCafeNY.com
Press Contact:
Satoshi Yoshimura
Maid Cafe NY
Horizon Enterprise Group, Inc.
info@maidcafeny.com
347-526-5562