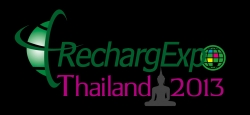 San Marino, CA, August 08, 2013 --(
PR.com
)-- RechargeAsia magazine is a bilingual (English and Chinese) monthly publication focusing on the printer, copier and consumables (ink and toner) industry. RechargeAsia will launch its signature Southeast Asia regional event entitled RechargExpo Thailand on August 28-30, in the Grand Diamond Hall at the IMPACT Exhibition and Convention Centre in Bangkok, Thailand.
RechargeAsia Corporation's geographic emphasis is on Asia, especially Southeast Asia, both because this region boasts of a well-established printer market and is home to some of the most promising industry companies in the region. Current market trends indicate that Southeast Asia is a solid platform for companies seeking to make their mark in global markets. Of particular attraction is the fact that the area is not quite up to speed with the latest technology in the printing industry, which conversely represents ample room for growth.
As one of the largest emerging markets, Asia has solidified its position as the world's second biggest economy in Purchasing Power Parity (PPP), after the United States, according to the latest World Development Indicators.
On average, the global printing industry over the years has experienced tremendous growth as a whole. To establish their presence in the industry and gain more market share, major printer and office consumables suppliers in North America have installed production facilities in emerging markets. This expansion trend is expected to continue and is aided by friendly investment policies towards foreign companies put forth by the governments of these emerging nations.
RechargeAsia, through the successful development and promotion of printing and imaging exhibitions (RechargExpo Southeast Asia 2013 Thailand, August 28-30 and RehcargExpo Southeast Asia 2013 Indonesia, November 7-10) over the last eight years has extended numerous business opportunities and growth potential to many participating companies. During this period, Recharge Asia's mission and goal has always been to bridge and narrow the gap between buyers and sellers and to facilitate cultural differences between businesses from the East and West. The exhibitions are aimed at producers and makers of printing and imaging consumables, including parts and supplies, and at providing opportunities for these companies to meet potential buyers that include wholesalers, distributors and retailers.
While the use of printer, copier, ink, toner, laser cartridges, photo paper, consumables and office supplies has decreased in saturated, developed markets, emerging markets within Southeast Asia have not been as affected by this slowdown. As such, Recharge Asia continues to place emphasis on this part of the world and sees it as a new horizon for companies looking to expand to this region.
Recharge Asia works diligently with companies attending their expos so that they may achieve sustained economic business growth, develop new business relationships and revitalize existing ones. Their commitment to helping the print industry grow via new channels of communication between the various sectors in in the market is why their exhibitions have been met with success and will continue to flourish for many more years to come.
"We exhibited at RechargExpo Southeast Asia 2012 for the first time and found that there is a big market for printer and copier consumables in Indonesia and surrounding region. The visitors were all industry professionals. We found RechargExpo Southeast Asia to be a very useful expo to us in our expansion into the region." Jessica Lin, General Manager, Cangzhou ASC Toner Production Ltd. "RechargExpo understands the trends of the business opportunities in fast growing regions, and its Expo in Jakarta rightly offered me the opportunity to engage in new contacts and new potentials for growth of our business. I am quite pleased with the new acquaintances I acquired at RechargExpo. Job well done, RechargeAsia!" Kam Woon, Business Development Manager UniNet Imaging S.E. ASIA
RechargeAsia Corp.
With its focus on the North American and fast-growing Asian market, Recharge Asia has utilized their knowledge and past experience to provide valuable assistance to producers and remanufacturers in the printing and imaging industry for mutual benefits. The objective is that such assistance not only benefits each but also the regions and the economy as a whole.
For more information about RechargeAsia events, please contact sunny@rechargeasia.com or visit our website www.rechargeasia.com