Lindi Lauren Announces Her New eBay Marketing Concept
Lindi Lauren has announced a new and unique marketing concept she says has never been done before. Her company "Lindi Lauren LLC" will soon be selling High Resolution screensavers or computer/cellphone wallpaper from some of her sexy photo shoots. The unique part of this marketing plan, however, is that she will be putting her fans who have purchased a downloadable Hi Res picture on an exclusive YouTube access list to view special videos of her.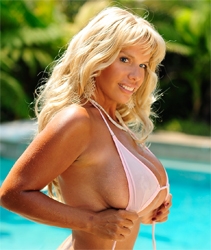 Lihue, HI, August 10, 2013 --(
PR.com
)-- Lindi Lauren the busty supermodel shares her time between her island home on Kauai and Hollywood where she is presently working on a movie. Many of her sensual photo shoots have been done on lush tropical locations such as Bora Bora, Kauai, Moorea and many Caribbean Islands. Her movie producers suggested that her Company Lindi Lauren LLC should sell pictures from the shoots. Lindi wanted to give as much value to her fans as possible which is why she came up with the following plan:
1. Sell High Class Hi Res photos from her shoots that would be sensual as possible without being offensive.
2. Make the images affordable by being downloadable. There would be no shipping or handling charge and the customer could put them on their computer or cell phone as well as making their own glossy pictures or posters.
3. Add an extraordinary value by inviting her fans who have made a purchase to communicate with her on Facebook and give them access to an exclusive channel on YouTube where weekly videos from her photo shoots, travels and intimate chat sessions would be posted. When asked for a little more details Lindi said, "Just these good friends will be able to view my special exclusive videos and I am proud to be considered Hawaii's top swimsuit model and I don't mind showing a little cleavage for my special fans."
4. Have a drawing with the names of all purchasers, the fan with the winning ticket would get a dinner date with Lindi whenever her travels would take her to their location.
The management of Lindi Lauren LLC stated that it has always been the company philosophy to give 10 times the value that the customer feels the purchase is worth.
Contact
Lindi Lauren LLC
Robert Hedin
808-651-7148
www.flirtydirtywear.com
Lindi Lauren at www.lindilauren.com and lindilauren4@yahoo.com

Contact