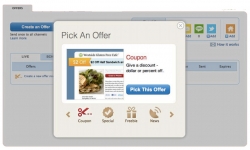 Boca Raton, FL, August 22, 2013 --(
PR.com
)-- MagicPay is a small merchant services company offering payment solutions for mobile, online and retail businesses since early 2012. Since the establishment of the company it has emphasized the importance it has to customer satisfaction which comes into action in terms of personal care and reliable merchant services. MagicPay specializes in
mobile payments
, which is a way of enabling traveling merchants to accept credit cards, whether it is through a wireless credit card terminal or by allowing merchants to accept credit cards on iPhone, Android or other wireless devices such as tablets. Although all services and prices are listed on MagicPay's website for everyone to see, in order to prove the equality among all merchants, MagicPay offers customized features for merchants who wish to have different features than posted on the website.
As part of increasing customer satisfaction and consumer confidence in the company, MagicPay has recently added a unique feature to most new merchant accounts called Fanminder Offers. Fanminder is a social and mobile marketing platform that allows merchants to send coupons, sales, specials and alerts to customers via 5 distribution channels; Facebook, Twitter, text messages, emails and the merchant's website. A research that was done on Fanminder concluded that it could grow revenue by an average of 8% if used effectively. Currently Fanminder is offered to most merchant account holders and gives them the ability to increase their revenue just by spending as little as ten (10) minutes a week.
Fanminder brings social and mobile marketing into one easy to use platform. Merchants can quickly create coupons or alerts by choosing one of the hundreds professionally made themes and headlines that were pre-formatted for email, online and mobile users. A control panel and online dashboard are provided as well in order to manage all offers and consolidate customer date in one place. On top of that, MagicPay is offering the new feature for free to most merchant account holders. Merchants that wish to just have Fanminder, without registering to MagicPay's services, can purchase it on a monthly subscription directly from Fanminder, but for MagicPay merchants all the features are given at no cost.
The MagicPay customer service team works extremely hard to maintain the ongoing reputable status it has. As Fanminder now is the main headline for this month, in previous months MagicPay offered other free products and services. Just recently, in May of 2013, it has introduced the free iPad POS placement program that provides a free iPad, cash drawer and printer to eligible merchants and as always, MagicPay continues to provide its credit card reader for free in order to save money to startup businesses.