Checking for Head Lice Simplified by Hair Whisperers
Download the Proof of Lice card from Hair Whisperers to determine if your child has head lice.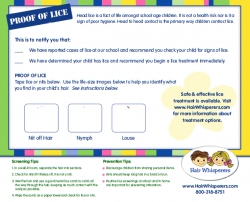 Los Angeles, CA, August 22, 2013 --(
PR.com
)-- Back to school season is often followed by a rise in head lice reports. Summer camp, travel and sleepovers can spread lice throughout the summer. Southern California head lice removal service, Hair Whisperers, suggests parents check their kids for lice before going back to school. Their Proof of Lice card available on their site can help.
Parents armed with a good, metal lice comb can regularly check for lice and avoid getting that dreaded call to pick up your child from school due to lice infestation.
"I receive calls from anxious parents almost daily, wondering if they are finding lice in their child's hair," says Amy Goldreyer, founder of Hair Whisperers. "Many times, it is a false alarm."
Because of the uncertainty over what lice is or is not, Goldreyer created the Proof of Lice card with life-size images of an adult louse, nymph and nits off the hair. Parents can determine if what they found is in fact lice by taping the debris next to the images.
Goldreyer adds, "Of course, there will be parents who will still want experienced professionals to diagnose and treat cases of
head lice
, and we are happy to help with that. For parents who want to be sure their kids are lice free before returning to school, we hope our tips and Proof of Lice card can help."
About Hair Whisperers
The Hair Whisperers was established in 2006 by Amy Goldreyer to help families get rid of lice in the comfort and privacy of their home. Hair Whisperers is the exclusive Southern California distributor for the Air Alle, formally LouseBuster™ device. They strive to offer customers safe, non-toxic lice treatment options to get rid of both lice and nits without the use of potentially harmful over-the-counter or prescription products. For more information about Hair Whisperers services, call 800-319-8751 or visit www.HairWhisperers.com.
Contact
Hair Whisperers
Amy Goldreyer
323-863-5298
www.hairwhisperers.com

Contact