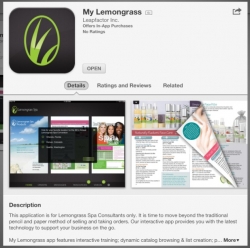 Pine, CO, September 11, 2013 --(
PR.com
)-- Lemongrass Spa, a direct sales company focusing on natural skin care products, has launched Leapfactor's Salesfactor iPad App. The app, which was unveiled at their annual convention, is available via the app store for their 1,200 consultants to help boost their productivity and enrich the sales experience while on the go.
The Salesfactor iPad app combines the cool and easy-to-use experience of consumer apps with a wide-range set of features that will help Lemongrass Spa consultants to tell the story, present the opportunity, showcase products, take orders and get training directly from an iPad.
The app is designed to make their consultants' lives easier by placing important business tools at their fingertips. Features such as interactive catalogs and multiple shopping lists enable Lemongrass Spa consultants to take orders wherever they are – even while they are offline. The app also allows easy access to the most recent brochures, training documents, videos and real-time company announcements.
The app also provides Lemongrass Spa consultants with a tremendous competitive advantage in that it enables them to not only showcase products, but also to demonstrate how they work through video and then take an order directly from their iPad.
"At Lemongrass Spa Products we strive to make our business as turnkey, fun and easy as possible. The app will take this concept to the next level and allow our consultants to conduct more business on-the-go. As part of our strategic growth objectives, the app will position our company as one of the direct selling leaders in mobile technology. This app will bring a new dimension of interaction and convenience to the consultants' spa business." said Heidi Leist, CEO and Founder of Lemongrass Spa Products.
The iPad app for Lemongrass Spa is one example of how companies can rely on Leapfactor's app solutions to distribute content, process transactions and trigger real-time events in an enterprise fashion. Leapfactor's approach is to enable businesses to provide fast and secure information without investing in infrastructure or long development cycles.
"Leapfactor is proud to provide Lemongrass Spa consultants with an appealing and intuitive mobile app solution that will not only differentiate them, but will also truly help them conduct their business while on the go," said Lionel Carrasco, CEO of Leapfactor. "We are excited to welcome Lemongrass Spa to the growing list of Direct Selling companies that have gone mobile and are adopting our Salesfactor mobile app solution to empower their distributors in the field."
About Leapfactor:
Leapfactor provides business mobile apps to help sales teams enrich the way they conduct business while on the go. Leapfactor's flagship product, Salesfactor, combines high-end user experience design, prebuilt baseline modules and cloud-based technology that quickly integrates with existing processes and backend systems to provide an engaging sales experience. This award-winning mobile solution has already enabled multiple direct selling companies and their consultants to present the opportunity, get training, showcase products, take orders and monitor their business activity, even while offline. For additional information about Leapfactor and its game-changing apps, please visit
www.leapfactor.com
.
About Lemongrass Spa:
Heidi Leist, owner and founder of Lemongrass Spa Products (
http://www.lemongrassspa.com
), never thought a girl's night out party could change her life. After enjoying an evening with friends and showing them how to make homemade bath crystals, the idea of starting a business bloomed. Heidi wanted to share her passion for natural spa products with her family and friends, while not sacrificing time with her young family.
Lemongrass Spa's mission is to pamper women and men in the comfort of their own homes with handcrafted, natural and organic skincare and mineral makeup products. We are committed to offering an exceptional business opportunity to improve the lives of consultants through financial security, friendships and community service all while balancing a career with family and God.