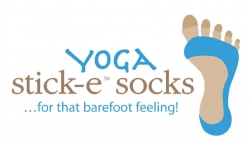 Chicago, IL, September 12, 2007 --(
PR.com
)-- Yoga Stick-eTM Socks is the newest patented product for the fastest growing segment in the health and exercise market. Being made from bamboo fiber, they also appeal to today's eco-friendly movement. Yoga Stick-eTM Socks, U.S. patent #7107626 was invented by Elizabeth Andrews of Libby's Luxuries LLC to solve several long-standing problems associated with barefoot exercise.
The original Yoga Stick-eTM Socks have a unique patented design that creates a barefoot feeling. The socks have a hole for each toe to extend through so the toes remain exposed. The exposed toes enable gripping during exercise. Yoga Stick-eTM Socks provide a hygienic, non-slip, sweat-absorbing environment for all your barefoot exercise including Yoga, dance, Pilates, Karate, and more.
Today, Yoga boasts 20 million followers -- more than triple the 6 million enthusiasts in 1994, says Trisha Lamb Feuerstein, head of research for the Yoga Research and Education Center, part of the International Association of Yoga Therapists, based in Santa Rosa, Calif. Today, there are yoga classes for toddlers, teens, even students in their 70s.
Despite Yoga being a barefoot based activity, it is estimated that 20% - 40% of every yoga class has students who continue to wear their socks and or shoes because they do not want to be barefoot. Additional research suggests that many people who are barefoot would prefer to have some sort of foot coverage but do not want to sacrifice that barefoot feeling.
The benefits of Yoga Stick-eTM Socks are:
• Exposed toes for gripping
• Hygienic - made from antibacterial bamboo fibers
• Washable
• Non – slip
• Sweat-absorbing
• Allows toes to breathe and grip
• Portable – no need to travel with a mat
• Warm environment for muscles, tendons and ligaments
• Affordable
• Exposed nails for pedicures
Exercise professionals are providing rave feedback. "Yoga Stick-e Socks are a big hit with my clients. They love the freedom that the sock allows while protecting their feet from germs and the non-slip grip is better than any sock on the market. Yoga Stick-e Socks are a high quality product that provide the perfect solution for fitness programs that require your feet to be able to "feel" the ground." - Sarah Lurie, Owner, Iron Core Kettlebell Fitness Studios, La Jolla, CA.
Being made from bamboo fiber, Yoga Stick-eTM Socks are in touch with today's eco friendly consumer. Bamboo is nature's most sustainable resource. It is grown without pesticides or chemicals, is 100% biodegradable, and is naturally regenerative. Bamboo is actually a tropical grass with an extensive root system that sends out an average of four to six new shoots per year, naturally replenishing itself and growing to heights of 60 feet or more. Some bamboo species grow up to 4 feet per day.
Soft Bamboo fiber is softer than the softest cotton, has a natural sheen to the surface and feels similar to silk or cashmere.
Unlike other anti-microbial fabrics that require a chemical treatment, bamboo fiber clothing is naturally anti-microbial requiring no harmful chemicals. It contains an agent, 'bamboo kunh', that prevents bacteria from cultivating on it. Bamboo apparel is comfortable, hygienic and will keep you cooler, drier, and odor free.
Yoga Stick-eTM Socks are being distributed through Americal Corporation, a leading supplier of socks and hosiery to mass merchandisers.
An infomercial will be introducing Yoga Stick-eTM Socks to the mass market in the latter half of 2007.
For additional information or a sample copy, Contact:
Libby Andrews, Libby@YogaStickySocks.com
Company Name: Libby's Luxuries LLC
Telephone Number: 708.369.5775
Fax Number: 708.206.9990
Email Address: Info@YogaStickySocks.com
Web site address: www.YogaStickySocks.com
Yoga Stick-eTM Socks...for that Barefoot Feeling is the only patented sock with a non slip bottom and a hole for every toe to extend through remaining exposed for that Barefoot Feeling. Made from Bamboo fiber, they are naturally hygienic, deodorizing and thermal regulating… perfect for Yoga, dance, Pilates, Karate, Pedicures and more.
Yoga Stick-eTM Socks was patented in 2006 by Elizabeth Andrews, owner of Libby's Luxuries LLC which designs leather and exotic skin handbags, accessories and jewelry. For more information on Libby's Luxuries, please see www.libbysluxe.com.
###