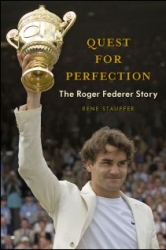 New York, NY, September 11, 2007 --(
PR.com
)-- The following is a question and answer session with Rene Stauffer, the author of "The Roger Federer Story, Quest for Perfection," the first US published biography of Roger Federer. Federer won his record fourth straight US Open men's singles title Sunday, defeating Novak Djokovic of Serbia 7-6, 7-6, 6-4 in the championship match. The title also marked Federer's 12th career Grand Slam singles title, tying him with Roy Emerson for No. 2 all-time for most Grand Slam men's singles finals, two shy of Pete Sampras' 14 Grand Slam singles titles. For more info on "The Roger Federer Story, Quest for Perfection," go to www.rogerfedererbook.com
Q: What are your thoughts and impressions of Roger's win at the US Open?
STAUFFER: Roger did not play his best tennis overall. It was more hard work than magic, but certainly his hunger and desire to win were as big as ever. That's what carried him through all those difficult moments in the semis and final. I'd say he won due to this desire, his mental strength and toughness as well as his ability to stay calm and positive, even facing set point after set point. He also won based on his experience in all these major finals and his ability to change his game if things did not work as well as he wished.
Q: How does Roger's four straight US Open titles compare to his five straight at Wimbledon? Is this more significant of an achievement since the hard courts of the US Open are more of an equalizing surface and there are more players who have the ability to beat him on hard courts than grass courts?
STAUFFER: Good question. Actually Roger's four US titles in a row are more meaningful and representative of his overall strength, because hard courts are a fair surface for everybody and there is much more competition than on grass, which doesn't suit a lot of players well. But since Wimbledon was always closer to Roger than Flushing, even as a kid, his five Wimbledon titles mean more to him, and having tied Borg's record this year, certainly stands above his fourth U.S. title and was the defining moment of 2007.
QUESTION: How does Federer stack up on the grand list of sporting champions around the world?
STAUFFER: Roger is already up there in the first league of great champions, especially with his dominance over the last four years. He just needs is a little more time to be more widely known as an all-time legend like Ali, Gretzky, Jordan, Pele etc.
QUESTION: What kind of comparisons can you make between him and Tiger Woods, Michael Jordan, Pele, etc.?
STAUFFER: While athletes like Tiger Woods, Michael Jordan and Pele all have an aura of superstars and seemed like they are from another planet, Federer still seems pretty low key, very human and is approachable to almost anybody. But what he has in common with Tiger, Jordan and Pele and so on is that he really stands for his sport. He loves it and is fanatical about it. He really is an ambassador for sport and tennis in general.
QUESTION: Do you think Roger really does compete against the legends of other sports – like Tiger Woods in the commercials saying that he needs to "catch up" as well as Pete Sampras, etc.?
STAUFFER: Yes, he does. He knows that he is in this unique position to shatter all the records he wants, if he can "keep it up." But this was not his first goal, not at all. When he first played tennis, he dreamed of just playing one day at Wimbledon, not to break the records of players like Bjorn Borg or Pete Sampras.
QUESTION: Is Roger not only competing against his components, but history as well? Such as Bjorn Borg at Wimbledon? Perry, Agassi, Laver, Emerson and Budget at the French?
STAUFFER: Of course. History has become his main challenge. Since a very early stage in his pro career, he is in a situation where it would be regarded as a failure if he doesn't break Pete Sampras' 14 Grand Slam tournament record or win the career Grand Slam by winning in Paris, or perhaps even winning the Grand Slam itself.
Q: Did you find it difficult to write a book about Federer's career while it was in progress?
STAUFFER: Of course this was a challenge. There are several risks involved and you need a little luck that things don't change too dramatically after the book is out, otherwise it might look very old very quickly (like injuries, form slumps, changes in his entourage etc...) So far, i was pretty lucky, but there is nothing i can do to influence that.
Q. With his legacy depending on the outcome on how Federer handles future matches with him, do you think this book will be obsolete in four years?
STAUFFER: I don't agree with this theory. In my opinion, Nadal's influence on Roger and his legacy is far less important than that. A guy who won that many Grand Slam titles is an all-time-great in tennis, regardless of anything that will happen from now on. And there is a good chance that Roger is picking up more majors in the coming years. So I guess this book will stay interesting much longer, especially since one of it's main focuses is in Rogers early years, his upcoming and struggle to get to the top.
Q. Did you have trouble avoiding a hagiography given the apparently close relationship between you and Federer and Federer's family?
STAUFFER: I knew about the risk. But being a professional journalist for 25 years, I learned how to separate job and private life in the real important relations. Knowing somebody well should not mean that you loose the right for a certain distance. I know that there are some parts in the book that Roger would have written differently, and I can live with that.
Q. How, if at all, do Federer's interviews compare when speaking in German versus English?
STAUFFER: Since the Swiss German press conferences feature a smaller, more intimate group, they are much more interesting for us. Often the questions are more specific, and Roger is speaking more freely, using a broader vocabulary. Sometimes he is also less diplomatic in his mother tongue. That's why we from the Swiss media appreciate him giving us special interviews after every match.
Q. Does his friendly relationship with the media earn him free passes at certain times?
STAUFFER: It certainly doesn't do any harm.
Q. What do you make of Federer's difficulty with coaches? Is it stubbornness or does he truly not need one usually? Do you think a coach would have helped his tactics in some of the matches with Nadal?
STAUFFER: I think Federer outgrows his coaches, because he is a very fast learner. Maybe there is a coach around who could tell him exactly how to beat Nadal, but I doubt that he exists. Otherwise, Roger might have found him. To be honest: I don't think that many coaches know as much about tennis as Roger. He is always adapting and analyzing. Just a reminder: he has won four of the last six matches against Rafa, one even on clay.
Q. How important do you think winning a French Open is to Federer and his legacy?
STAUFFER: That's a good question, and I agree that the French is a very important point to clarify Roger's legacy. In my opinion, you can really call him the greatest player of all time only if he wins there as well. But he should have some years left, and I really like his chances in Paris.
QUESTION: How do you assess Roger and his clay court game?
STAUFFER: Roger calls clay 'his surface' since it was the surface where he learned to play the game. He almost stubbornly regards himself as a clay courter, even though he lost his first 11 pro matches on clay, but he has won already six clay-court titles and been in the finals of Monte Carlo, Rome and Paris. If he didn't have an outstanding clay-court-rival like Nadal, he would have won the French Open already by now without a doubt."
Q. How do you account for his reluctance to play for the Davis Cup team?
STAUFFER: Roger has played more Davis Cup matches already than most of the players ever will. He only missed three first round ties in 05, 06 and 07, and he only did it to focus on the Grand Slams. He had to sacrifice the Davis Cup for the Majors, and I think, that he made the right decision, if you look at his results. Of course he also tried to avoid injuries by skipping the Davis Cup first rounds. I am convinced that he will refocus on the Davis Cup again sooner or later.
###