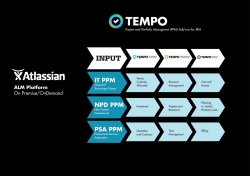 Reykjavik, Iceland, September 25, 2013 --(
PR.com
)-- TM Software, creator of the award winning Tempo Timesheets add-on for Atlassian's project management and issue tracking platform, JIRA, today announced a suite of project and portfolio management (PPM) solutions for JIRA, including Tempo Timesheets, Tempo Planner, and Tempo Books. Each Tempo add-on can be used alone or in tandem with other Tempo products in the product portfolio offering. However, as a full product suite, Tempo Timesheets, Tempo Planner, and Tempo Books round out JIRA as a full professional services solution for JIRA.
In today's environment, an increasing demand for business agility forces firms to adapt. Manual data entry and slow feedback loops from planning-as-usual methodologies do not allow firms to pivot as business circumstances change. Today's organizations need to see and trust information as it develops to make decisions that will help them surpass their competition. A one-size-fits all approach no longer suffices, but the need to adopt lean and agile processes makes choosing tools more difficult for businesses.
Tempo's PPM tools are designed to serve as flexible hybrid solutions that handle the day-to-day work for both waterfall and agile projects and teams, yet also convey aggregated information for more strategic planning. They cater to the lighter-weight/lean governance processes that agile projects require, while offering the rich resource forecasting features, what-if prioritization scenarios, and multiple capabilities for discerning business value.
Tempo Timesheets
TM Software's award winning Tempo Timesheets add-on is seamlessly integrated with JIRA for resource planning, time tracking, project management, and business intelligence. This add-on was voted the #1 Atlassian Marketplace add-on of 2012 by Atlassian.
Tempo Planner
The company's new Tempo Planner add-on brings higher-level and more granular Agile resource planning and project management capabilities to JIRA, including JIRA Agile integration and business analytics for forecasting.
Tempo Books
TM Software's new Tempo Books add-on brings new meaning to tracking value in JIRA by enabling teams to flexibly budget costs, designate rates, and manage actual costs and expenses for customer billing. It also provides business analytics with real-time and ad hoc data for adjustments, forecasting, and analysis.
Teams and Accounts
New Teams and Accounts functionality threads the Tempo product suite together, providing richer and more diverse data and reporting capabilities as more Tempo add-ons are used.
Tempo's professional PPM suite for JIRA is scalable, both from an organizational and a demand perspective. Tempo's add-ons are designed to competently support different types of work environments, addressing simple work management as well as sophisticated business-driven project needs. They support project teams, project management, resource management, portfolio management, and business sponsors and steering committees with robust resource, time, and financial management capabilities to help organizations stay on track, improve communication and transparency, increase ROI on projects, and generate greater EBITDA.
With strong, flexible deployment options and the ability to support global implementations, Tempo's product suite allows distributed teams, from small start-ups to large-scale enterprises, to work together efficiently.
Tempo Timesheets licenses are available for on premise and OnDemand evaluations from the Atlassian Marketplace:
https://marketplace.atlassian.com/
Tempo Planner and Tempo Books will be available for evaluation from the Atlassian Marketplace soon.
About TM Software
TM Software, creator of the popular Tempo project and portfolio management add-ons for the Atlassian ecosystem, including Tempo Planner, Tempo Books, and the award winning Tempo Timesheets add-on for Atlassian's JIRA, is a leading enterprise application software developer headquartered in Reykjavík, Iceland. More than 4,000 large and small organizations in over 90 countries — including eBay, Amazon, Oracle, Intel, Dell, and Pfizer — use Tempo's time tracking, resource planning, project management, and business intelligence software products to work smarter and more efficiently.
Contact:
Jessie VanderVeen, Marketing Manager
+354 545 3048