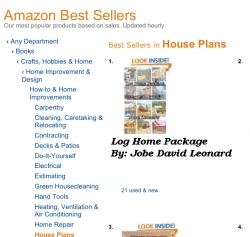 Dandridge, TN, October 04, 2013 --(
PR.com
)-- In February, while his first book was still at number one, he began penning his second and third titles. This time instead of focusing on his love of international travel he created guides explaining the luxury log and timber frame home market he had worked in for the past decade.
"As my first book became more and more popular the royalty checks grew, and I decided to take some time for self reflection," says Jobe. "I thought about writing additional books, and I realized I possessed extensive knowledge on building custom luxury timber homes." With Mr. Leonard also being the recent winner of the 2012 National Log Home of the Year award, the momentum was just to strong for him to stop. The foundation for his next two titles was set, and he began penning his new titles based on five principles that he stressed to every client he interacted with.
1. Budget
2. Choosing the right timber home manufacturer
3. Buying a great piece of land
4. Hiring a quality contractor
5. Designing a project to be proud of
Additional tips for building custom homes can be found on his website at www.Jobe.ws along with free worksheets to the entire process.
"Timber Frame Home Package" and "Log Home Package" were released in late summer and have recently topped multiple bestseller lists. They are targeted to consumers wishing to design, estimate, and secure their best deal on a custom home. The writing style and different genres Jobe Leonard has conquered in the past year leaves readers wondering what could possibly be next.