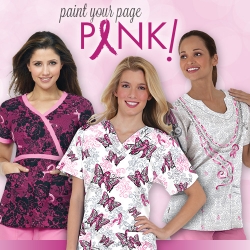 Plantation, FL, October 04, 2013 --(
PR.com
)-- To continue support of October's breast cancer awareness month, Uniform Advantage will donate $1 for every new Facebook page "like" received during the month of October. The donation proceeds will benefit the American Cancer Society's (ACS) Making Strides organization. This is the second year that Uniform Advantage is doing the Paint Facebook Pink Facebook promotion, as last year's was so successful, generating more than $1,500 for donation.
Making Strides Against Breast Cancer was started in 1984 by cancer survivor Margery Gould Rath, who recruited 200 people to do a "move-along-a-thon" with her in Boston, MA to raise funds for the ACS. Since that inaugural event, it has been a nationwide tradition to walk in support of breast cancer awareness, research, treatment, and prevention. Today, close to 300 districts participate in these fundraising walks that unify survivors along with their friends, families, and communities.
In addition to the efforts of the "Paint Facebook Pink" campaign, Uniform Advantage will also be walking in the local Broward County, FL Making Strides walk with individual employees and their families joining in on the fundraising activities. "We've done the local Making Strides Walk for the past 4 years, it's always a great way to unite our employees and participate as a team for a cause that is very close to our hearts," said Lori Dunlap, VP of Marketing for Uniform Advantage.
The "Paint Facebook Pink" campaign will be widely promoted on the Uniform Advantage Facebook page (www.Facebook.com/UAScrubs), Twitter (@UAScrubs), homepage (www.UniformAdvantage.com), and through email promotions to provide the ACS with maximum fundraising support. Uniform Advantage hopes that by promoting through all of these different outlets, customers will be able to easily share the campaign with their own social networks to increase exposure. Funds raised on behalf of Making Strides directly help in the fight against breast cancer through research, information and services for patients, and more accessible preventative mammograms.
To learn more about the history and mission of the Making Strides organization please visit http://makingstrides.acsevents.org. To see pictures from past years of the Uniform Advantage Making Strides walk team please visit the UA Gives Back page here:
http://www.uniformadvantage.com/a-day-in-scrubs/ua-gives-back/making-strides-against-breast-cancer.asp.
About Uniform Advantage
Uniform Advantage is a leading retailer of scrubs and
medical uniforms
. Founded in 1985, the company operates out of Plantation, Florida and ships from their distribution center near Atlanta, Georgia. It has grown to include 30 retail stores located in key cities across the US and Canada, a catalog division and an entity dedicated to the online market.
For more information and to view their garments, visit the Uniform Advantage web site at http://www.UniformAdvantage.com or call 800-283-8708.