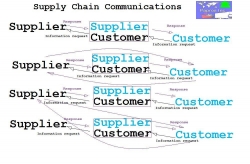 San Jose, CA, October 24, 2013 --(
PR.com
)-- Green leader Papros Inc. announces a town hall type meeting for open discussions for manufacturers on BMPs (Best Management Practices) in a bid to discuss, develop and disseminate such practices for promotion of greening processes in worldwide manufacturing. Key points will relate to supply chain practices in information exchange, and native XML databases for greening, in which area Papros leads the industry. The date and venue, which is free for manufacturing company employees is 10 AM -12 Noon, on Nov 1, 2013 at the Cupertino's Quinlan Community Center, 10185 North Stelling Road, Cupertino, CA 95014. A summary transcript will be made available to the entire supply chain later.
Discussions will relate to automation in the process of exchanging and verifying information, the necessary protocols and supplier-customer understandings. The main theme of the discussions will be to optimally iron out the many kinks in the process, and the process is only expected to grow more complex in the next few years with increasing push for greening of products. Experts with ideas on green processes and LCA (Life Cycle Analysis) based optimization and alternate analysis have been invited and will provide unique perspectives on tacking complex supply chain issues.
Papros, as host, will provide moderation for the meeting. In addition, it will offer a few moments of insight onto some the recent developments at Papros Inc, including the most innovative desktop interface to analyze complex XML data, especially useful for RoHS and REACH material declarations. Also discussed will be the recent news on cross checking any company's entire product line material declarations versus laboratory reports. XML analysis for the "once an article always one' type scenario will also be mentioned.
About Papros Inc: Papros Inc. has been committed to providing Total Environmental Management solutions to US and International companies. "Optimizing the Greenback and the Green Environment" has been the slogan of Papros Inc. since its inception more than twenty five years back. Based in San Jose, California, Papros Inc.'s solutions span the entire spectrum of Environmental Management and feature tools to enable corporations worldwide to deploy and manage product environmental lifecycle data in a manner that is efficient, easy-to-use and economic to support the infrastructure needed for manufacturing, and for rapid changes in product design.