VIRUN® & Vital Pharmaceuticals® Expand Operations to Offer a Combined 29 Patents for Raw Material Manufacturing and Finished Product Capabilities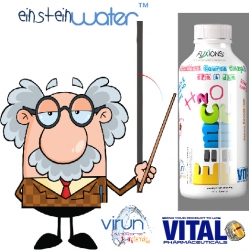 Walnut, CA, November 05, 2013 --(
PR.com
)-- The year 2013 has been a blockbuster renaissance of key partnerships and explosive innovation for VIRUN; early in the year, VIRUN published Chapter 39, Nanotechnology and Nonpolar Active Compounds in Functional Foods through Wiley. In March, Stepan Lipid Nutrition and VIRUN formalized a partnership synthesizing Clarinol® branded CLA into clear beverages and shot applications. VIRUN and the Specialty Products Division at Hormel Foods released its FUXIONS™ Omega-3 EPA and DHA shelf-stable functional beverage for private label in May. In August, VIRUN released its water-soluble natural PQQwater™ in cooperation with Nascent Health Sciences. PQQwater™, unlike the disodium form, is stable in beverages and bio-identical to the naturally occurring PQQ found in nature and available through FUXIONS™ brand. Perhaps most notable, in 2013, VIRUN & Vital Pharmaceuticals joined forces empowering fully integrated manufacturing from raw material concentrate to a wide variety of finished beverages, shots and nutritional bars containing non-polar FUXIONS™ ingredients. FUXIONS™ ingredients will be displayed in a new functional beverage branded as, E=MC2 H2O™, that's right, EinsteinWater™.
VIRUN and Vital Pharmaceuticals expand vertically-integrated solutions for finished product applications containing OmegaH2O® Omega-3 EPA DHA, PQQwater™ Coenzyme Clear® and other patented/patents-pending products and technologies.
VIRUN Expands a Second Facility in Weston, Fla. to Support FUXIONS™
VIRUN headquarters in Walnut, Calif., have reached capacity and therefore, have successfully expanded its production operations in Weston, Fla., as a concerted effort to support the growing demand of FUXIONS™ ingredients through the Specialty Products Division at Hormel Foods. The new facility is a state-of-the-art, cGMP facility and can produce up to 20,000 gallons a day. Utilizing VIRUN's vast patent and patents pending portfolio, this new facility will allow extended efficiency in processing, higher yield production and will also facilitate VIRUN's patent-pending HCO3 extraction process. What is unique about this expansion is that VIRUN's new facility will be adjacent with Vital Pharmaceuticals. This integration will allow a 2-step process from raw material manufacturing into finished product application. Nicole Shute, marketing manager-Specialty Products at Hormel Foods stated, "There is growing interest for FUXIONS™ ingredients, in particular with supplement beverage applications that demand differentiation in the market place. This expansion and partnership will assist FUXIONS™ application development with finished product actualization."
Vital Pharmaceuticals Partners with VIRUN to Offer Fully Integrated Manufacturing
Vital Pharmaceuticals, a 20 year nutrition and beverage industry leader that is largely based on founder and CEO Jack Owoc's ability to develop and scale conceptualized ideas into actual finished products in-house. Their 200,000 square foot facility produces liquid shots, multi-serving liquid products, including proprietary 3 ounce, 8 ounce, 16 ounce and 20 ounce beverages all on their multiple rotary or piston filling lines. Vital Pharmaceuticals has also developed in-house proprietary encapsulation technologies that enable an immediate yet sustainable tri-phase pharmacokinetic delivery. Vital Pharmaceuticals has funded 22 double blind placebo-controlled human studies on its products to drive proven innovations. Perhaps what is truly spectacular is that Vital Pharmaceuticals has recently developed their own in-house nutrition bar manufacturing to allow excellent source Omega-3 EPA and DHA claims in a single serving, whole food bar. The partnership will allow customers to produce the raw material Omega-3 EPA DHA or other water insoluble component and manufacture their finished food, liquid capsules, powders emulsion concentrates and beverages all in one cGMP biotech and food processing block in Weston, Fla. Key advantages of these products will be: all-natural, no preservatives (such as potassium sorbate or EDTA), no undeclared additives and only GRAS, clean label ingredients for direct food use (no polysorbates or hydrogenated castor oil PEG 40). Mr. Owoc stated, "VIRUN's integration with Vital Pharmaceuticals just makes sense from many different perspectives - I nicknamed Bromley, 'Phil the Thrill' for a reason; together we have an innovation wheel that is going to produce dozens of $100 million+ beverages, supplements and nutrition products. 'More importantly, the big picture Vital/Virun vision is uniquely aligned to produce finished inventions backed by a scientific explosion of innovation in order to improve the health and quality of life of billions of individuals.'"
Philip Bromley, CEO of VIRUN agrees with Sports Illustrated who refers to CEO Owoc as the 'Willy Wonka' of supplement industry; "Having this opportunity to work with them is humbling and VIRUN is fortunate to be a part of this great organization," Mr. Bromley stated.
E=MC2 H2O™, Einstein Water, at Supply Side West 2013
See for yourself the power of strength-in-partnering at Supply Side West Show in Las Vegas as VIRUN, Vital Pharmaceuticals and FUXIONS™ Specialty Products Division at Hormel Foods display "relativity" in Einstein Water (E=MC2 H2O™); an excellent source of Omega-3 EPA DHA, Vitamin K2 MK4 and MK7 and over 300 mgs of potassium in a preservative-free 16-oz beverage suitable to be called EinsteinWater™. SSW Booth #: 34070
VIRUN
PR Director - Stephanie Bromley
Contact
Virun, Inc.
Philip Bromley
954-641-0570
www.virun.com
innovate.today@virun.com

Contact