Bianca Porrino Received a Letter from the Human Right Campaign, Thanking Her for Her Active Support in Passing Marriage Equality Laws in Hawaii
"Love is pure in all its forms and we are a giant step closer to gaining marriage equality for all. Now same-sex couples gain even more advantage as they can celebrate their union in a grand way with a beautiful destination wedding in Hawaii." -Bianca Porrino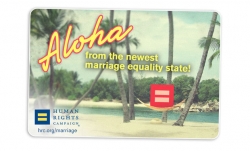 San Diego, CA, November 18, 2013 --(
PR.com
)-- Bianca Porrino, an expert wedding planner based in San Diego, California received a letter signed by Chad Griffin, the President of Human Rights Campaign thanking her for her continued active support of marriage equality. He stated the following:
"Dear Bianca,
Huge news! The Hawaii State Senate just approved a bill to allow all loving and committed couples to marry. The House has already passed it and Governor Neil Abercrombie is expected to sign the bill into law – which will mean weddings can begin on December 2.
This is another chapter in an exciting string of victories this year. But more than that, it's proof that hard work, long-term dedication, and the support of individuals from around the country (including YOU) can make the difference when it comes to securing basic rights for loving couples." -Chad Griffin
After receiving the letter, Bianca expressed how proud she is to be an active member of the Human Rights Campaign for Marriage Equality. Love is pure in all its forms and we are a giant step closer to gaining marriage equality for all. Now same-sex couples gain even more advantage; they now can celebrate their union in a such a grand way, a beautiful destination wedding in Hawaii.
Besides being an active member of the Human Rights Campaign For Marriage Equality, Bianca Weddings also practices social media activism via Facebook posts and Tweets about the cause on "Marriage Equality Mondays."
Read more about the Human Right Campaign victory, share the story, and say "Aloha" to Hawaii, the newest marriage equality state.
Visit Bianca's Blog at
http://DestinationWeddingsPlanner.com
to read the entire letter and to view our take on the HTC campaign victoria in Hawaii.
About Bianca Weddings
Bianca Weddings provides full service wedding planning, coordination, and production. From day-of coordination to complete planning and production, we will turn your dream wedding into a reality. We specialize in the planning of innovative weddings all over the world: From San Diego, Miami, New York, San Francisco, Beverly Hills, La Jolla, Del Mar, and Lake Tahoe, to St Lucia, Hawaii, Costa Rica, Italy, Paris, Mexico, Dubai, Jamaica, and more. In addition, Bianca is trilingual; she speaks Italian, Spanish, and English fluently. She is also an active member of the Human Right Campaign For Marriage Equality.
Contact
Sweetly Social Media
Nathalie Smith
862-216-1368

Contact
Multimedia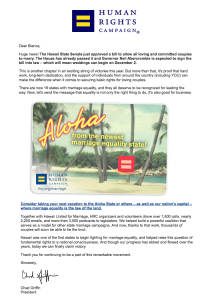 Letter from the president of the Human Rights Campaign to Bianca Porrino of Bianca Weddings, thanking her for her active support in the passing of marriage equality in Hawaii.