The Argenta Market Launches Buy Local Campaign, Providing New Services, and Hosting Its Holiday Open House December 14th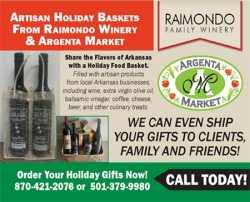 North Little Rock, AR, November 26, 2013 --(
PR.com
)-- The Argenta Market, a full service food store emphasizing local Arkansas grown and made products, is keeping with its Arkansas theme for a holiday open house on Saturday, December 14th from 9:00am to 1:00pm at 521 Main Street. This Open House event will be filled with a variety of activities for the whole family! The Market has teamed up with local vendors to provide food samples, offer gift ideas and raffle prizes. Participating local vendors include Ratchford Farms, MaryClareMacarons, Farnsworth Foods, WooHoo, The Boxer Chef, Raimondo Family Winery, Cupcakes on Kavanaugh, Le Pops, and more. Entertainment, seating and free parking will be available.
Coinciding with the Open House will be the Argenta Farmers Holiday Market at the corner of 6th and Main Street in downtown North Little Rock and Holly Trolley Day at the Trolley Barn at 7th and Main, both in North Little Rock and directly across Main Street from Argenta Market.
This event is just one part of Argenta Market's new emphasis on promoting Arkansas made and grown products. "We are very excited about this event," said Kerri Allison, General Manager of Argenta Market. "It is a wonderful time for people to meet with our local vendors, sample delicious food, and explore all our fabulous, recently expanded, Arkansas goodies."
Other parts of the campaign have included direct mailings in partnership with some of the local vendors, in store signage listing all of the local products by category, and event based promotions. One major initiative is the Arkansas Holiday gift baskets that the Argenta Market is offering in partnership with Raimondo Winery. "Each year our customers tell us they appreciate being able to give holiday gift baskets filled with Arkansas-produced products and they love being able to find everything in one convenient location," said Margie Raimondo, owner of Raimondo Winery. "Partnering with Argenta Market on this promotion allows us to ship and deliver our wine, extra virgin olive oils and balsamic vinegars with a wider range of Arkansas artisan products during this holiday season. We really appreciate Argenta Market's support of local businesses."
Raimondo Winery is a family-owned winery located on Lake Norfork and in North Little Rock. Raimondo wines are hand-crafted using artisan techniques in small lots from premium California grapes. They specialize in Italian and Iberian wines. In addition to exceptional wines, offered are extra virgin olive oils and premium balsamic vinegars. You are invited to sample products, picnic on the deck overlooking the lake, play bocce ball, take a cooking class, or visit their wine store. www.raimondowinery.com, (501)366-9817
Founded in 2010, Argenta Market is a locally owned and operated full service food store, focusing on Arkansas grown and Arkansas made products. This full service food store includes a grocery, juice bar, catering operation, and a full deli, including a full Saturday and Sunday morning breakfast menu and a menu of gourmet deli sandwiches and specials all throughout the week. In addition to the over 100 Arkansas products the market carries, it also provides a wide selection of grocery, meat, and produce items not found in Arkansas, providing customers with one stop shopping experience. Argenta Market is staffed with a talented team that offers to take your grocery list and shop for you while you dine, chop your produce, take special orders, prepare almost anything you would like and available to offer cooking tips and provide any information about the store's products.
Argenta Market can simplify the holidays with catering packages, holiday party trays, Argenta Market gift certificates and the all Arkansas holiday gift baskets.
Contact Argenta Market at (501) 379-9980 or email info@argentamarket.com with any questions.
Kerri Allison
Argenta Market
phone: (501) 379-9980
fax: (501) 379-9984
info@argentamarket.com
argentamarket.com
Contact
Argenta Market
Kerri Allison
501-379-9980
argentamarket.com

Contact