Bianca Weddings Collaborated with Exhibitors from the Jamaica Bridal Expo to Host a Destination Wedding Photo Shoot in Negril, Jamaica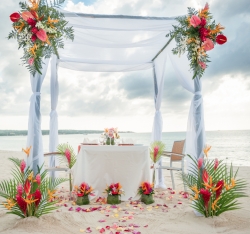 San Diego, CA, December 02, 2013 --(
PR.com
)-- Bianca Weddings will be collaborating with the Sandy Haven Resort, Bliss Bridal Boutique, Floral Fantasies, Hair and Makeup Artist, Rondene R. Robertson, and Sweetly Social Media, to create a photo shoot in Negril, Jamaica. Jamaica is one of the world's top destination wedding hotspots and this photo shoot took place along the famous Seven Miles Beach in Negril on Wednesday, November 27th, 2013.
The resort town of Negril has some of the most beautiful beaches in the world. The famous Seven Mile Beach is a coastline of endless white sand, captivating turquoise water, and splendid sunsets. Negril beach has been rated as one of the top ten best beaches in the world by travel magazines, and for good reason. Although it has been a couples retreat for many years, Negril still remains fairly underdeveloped, which is a major part of the destinations charm. However, that may change in the near future; the new highway from Montego Bay and improved infrastructure may bring more tourist to this Jamaican gem.
"I was so excited to attend the Jamaica Bridal Expo in October. Attending was such a special honor to me as the Jamaican people are so welcoming, charming, friendly, and easy to work with. I connected with many vendors at the expo to give more options to my brides, and in only one month I was able to plan and organize a destination wedding photo shoot with the Sandy Haven Resort, Bliss Bridal Boutique, Floral Fantasies, Rondene Robertson, with the help of Sweetly Social Media. This makes me confident that all the vendors I had the pleasure to meet and greet at the Jamaica Bridal Expo, have the drive and professionalism to make planning a destination wedding in Jamaica an easy and irie experience for everyone involved." -Bianca Porrino, expert Wedding Planner, and owner of Bianca Weddings
About The Destination Wedding Photo Shoot Collaborators
Bianca Weddings provides full service wedding planning, coordination, and production. From day-of coordination to complete planning and production, they will turn your dream wedding into a reality. they specialize in the planning of innovative weddings all over the world: From San Diego, Miami, New York, San Francisco, Beverly Hills, La Jolla, Del Mar, and Lake Tahoe, to St Lucia, Hawaii, Costa Rica, Italy, Paris, Mexico, Dubai, Jamaica, and more. In addition, Bianca is trilingual; she speaks Italian, Spanish, and English fluently.
Sandy Haven Resort is a beachfront luxury boutique hotel located on the famous hip strip that takes advantage of the wealth and amenities of Seven Mile Beach. The resort has 35 romantic rooms that can be a total buy out for a wedding party and all its guests. This gives couples the option to have 100 percent undivided attention dedicated to making their destination wedding in Jamaica a magical and intimate experience.
Bliss Bridal Boutique is a rapidly growing bridal shop that offers both high end and budget friendly wedding dresses from David Tutera and Pronovias Fashion Group to Alfred Angelo and Bonny Bridal. They have an array of stunning wedding dresses for every bride's style and budget. They provided the wedding dress worn by 22 year old Lasana, who's and hair and makeup was provided by Rodene Robertson. They also recommended Courtney C. for the photography.
Floral Fantasies is a charming mom and pop flower shop nestled in the heart of Negril that specializes in weddings and special events. They created all the flowers for the couples table and arch perfectly to the vision of Bianca Weddings.
Sweetly Social Media is a rapidly growing company in the wedding industry and viral marketing world. Acting as a Social Media Marketing and PR Consultant for multiple clients, they have already played a big part in networking and creating both vendors connections and connections with brides. They will be organizing another destination wedding photoshoot on behave of Bianca Weddings in Costa Rica in the upcoming year.
Contact
PR Contact
Nathalie Smith
862-216-1368
http://BiancaWeddings.com
Contact Bianca Porrino for a free consultation on planning a destination wedding in Jamaica.
(619) 313-1823 Bianca@BiancaWeddings.com

Contact
Multimedia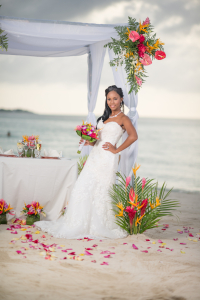 The Sandy Haven Resort Beach front property on Seven Mile Beach