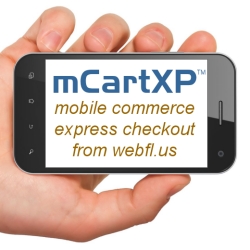 Miami, FL, December 09, 2013 --(
PR.com
)-- Expert-rated responsive web designer and mobile app developer Bruce Arnold today announced the availability of mCartXP™, a multi-device HTML5 mobile web app developed jointly by his firm WebFL.US and their white label web development counterpart WLWeb.US - both of which are staffed by American web professionals actually based in South Florida and neither of which outsource overseas.
Developed with PHP programming server-side and JavaScript coding client-side, mCartXP mCommerce apps render as pure W3C standards-compliant HTML5 and CSS3. As such, they can be used to buy and sell products and services using virtually any mobile browser – including Dolphin, Firefox, Mobile Safari and Opera – and any smartphone or tablet – e.g. Android, Apple iOS/iPhone/iPad, Blackberry or Windows Phone. No visits to any app store are required, nothing needs to be downloaded or installed, platform vendor lock-in is avoided, and customer privacy is respected and protected. CSS styling can be applied to match the look and feel of the sending web page, the receiving payment processor or anything in between. One-touch mobile homescreen icons are optional.
mCartXP HTML5 mobile web apps are available exclusively for the responsive web design clients and eCommerce website customers of WebFL.US. One such client is Joachim de Posada, CSP, PhD, a widely recognized and highly respected motivational speaker and author of many best-selling self-improvement books. From his recently redesigned and fully responsive website JoachimDePosada.com, Dr. Posada sells some of his books and products through major online distributors like Amazon and Barnes & Noble and others directly to the public. For mobile shoppers placing direct orders, adaptive web design techniques by WebFL.US leverage the WURFL DDR (device description repository) to automatically route them to mCartXP to make their purchases. There, customers can choose the language used to complete the transaction – English or Spanish – and identifying their country and state enables the app to calculate and display their shipping, taxes and total charges before they login to PayPal to authorize payment. And because mCartXP uses the PayPal Mobile Express Checkout API, a mobile-friendly user interface and user experience (UI/UX) is provided for the transaction from end to end.
mCartXP mobile commerce apps can be deployed to process online payments for intangible services as well as tangible products. CustomCleaningByGaby.com of San Antonio, for example, uses the WebFL.US application to process desktop, laptop and notebook computer as well as tablet and smartphone payments for "cleaning service units" which can be used to pay for commercial and home cleaning services in Central Texas or transferred to other parties in the form of gift certificates.
About WebDesignMiamiFlorida.com | WebFL.US
Miami web design firm WebDesignMiamiFlorida.com (WebFL.US) is the online HQ for Bruce Arnold, a WebRTC WSQD and the expert-rated South Florida web developer to choose for web marketing, hybrid HTML5 Mobile Web apps, and adaptive/responsive web design that is W3C valid HTML5/CSS3, WCAG accessibility checked, I18n issue-free PHP/MySQL and jQuery/JavaScript with embedded media and Schema.org rich snippet Semantic SEO. For a free consultation on mobile apps, responsive web design or WebRTC call 786-326-8079.