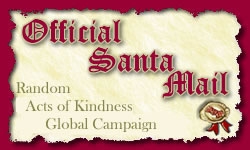 Tampa, FL, September 22, 2007 --(
PR.com
)-- Few people know it, but NORAD's tradition of Tracking Santa every year for the world's children began with a misprint and a random act of kindness. A toy retailer accidentally printed the number to CONAD, predecessor to NORAD, in a Christmas Eve ad inviting children to call for Santa updates back in 1955. When the phone rang, Col. Harry Shoup, performed an Act of Kindness. He put the tracking resources of the U.S. military on the job and they gave children news as to Santa's progress. Sine that one Act of Kindness, NORAD has turned the Santa Tracking into a global event.
In 2005, another random act of kindness was performed when Dianna Kersey volunteered to help NORAD answer their 'Dear Santa' emails. The website
www.officialsantamail.com
which she operates with her sister Cindy Kersey, now answers hundreds of thousands of emails in six different languages. The all –volunteer effort is supported by sales of Santa friendly items such as mailed Letters from Santa in eight languages, Santa evidence kits, and Santa 'Nice List' certificates.
"Santa's theme this year is to revolve around acts of kindness all year long. We thought it would be fun to get students to participate in a kindness lesson that would get everyone into the joy of the holiday spirit. A re-focus on the importance that kindness plays in everyday life," said Dianna. "We have made a suggested lesson plan on our website for the teacher's convenience."
"It's very easy to become downhearted with all of the bad news in the world. We want to celebrate what's right with the world instead. We believe children learning how to perform acts of kindness, which don't have to be big, expensive or even praiseful, is very important. They learn to do it with joy in their heart and expect nothing in return but a smile, because they know they did something nice for someone," explained Cindy.
"Oprah Winfrey has an Angel Network program that has always inspired me," said Dianna. "Oprah's amazing kindness in her stories always made me feel really good and I wanted to find a way in which I could make a difference too. I'm hoping our letter writing program will make visitors to our site feel good and hopeful and help celebrate the heartfelt work that excellent teachers and students do in classrooms across the globe."
"We want to feature tomorrow's leaders and enjoy their inspiring acts of kindness, by sharing these good news letters and photos on the Official Santa Mail website everyday throughout the holidays. Each class who participates will receive an achievement certificate and the most creative class will receive an International Leadership Kindness Award from Official Santa Mail," explained Cindy.
www.officialsantamail.com is the Official Authorized email service for NORAD Tracks Santa program www.noradsanta.org in answering 'Dear Santa' letters from children world over pro bono. The all-volunteer effort now answers hundreds of thousands of emails in six different languages with the aid of GlobeLink foreign language translation services in Colorado Springs, Co. To volunteer or donate resources to the effort, visit
http://www.officialsantamail.com/Kindness/Random-Acts-Kindness-Campaign.html
, call 813-333-5546 or email youreinvited@officialsantamail.com.
###