The Perfect Holiday Gift: NuvoCig Electronic Cigarette, a Breakthrough Alternative to Smoking
No flame. No smoke. The Nuvo electronic cigarette is a smoke-free product that delivers the pleasures of smoking, without the negative side effects of tobacco cigarettes.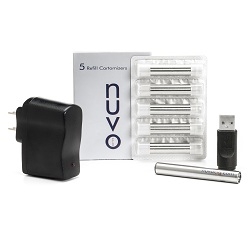 New York, NY, December 13, 2013 --(
PR.com
)-- The
NuvoCig
is an innovative electronic vaping system, designed to simulate the sensation of smoking. The electronic cigarette is comprised of two pieces that are assembled together, the cartomizer - or the refill end, which contains flavored liquid and nicotine - and the battery. The cartomizer end of the NuvoCig is similar to the filter end of a traditional cigarette. As the user inhales, the NuvoCig produces a safe, odorless vapor, instead of smoke. On average, one cartomizer is equivalent to, or "lasts as long" as, two packs of traditional cigarettes.
When it is time to refill the cartomizer, it can be twisted off easily and replaced. NuvoCig's cartomizers come in a variety of flavors, enhancing the vaping experience. From traditional and cool menthol flavor to fruit flavors to out of the ordinary options, such as Atomic Fireball, Coffee, and Vanilla, NuvoCig offers an adventure in taste. The cartomizers are available in 5 strength levels of nicotine, so users can control nicotine intake. The highest level has a similar sensation of nicotine as a stronger cigarette brand and the lowest level is absolutely nicotine-free.
With a wide selection of products options, electronic cigarette users can customize their purchase to match their preferences and budgets:
• Disposables offer a convenient way to try the Nuvo electronic cigarette. Ready for use straight out of the box, the disposable allows users to enjoy the Nuvo without charging or changing the cartomizer.
• The Silver Single is the most affordable choice for those who want to try a rechargeable electronic cigarette.
• Kits are handy packs for users. From starter kits to customizable e smoking kits, Nuvo gives users the freedom to choose their electronic cigarette vaping experience.
• Accessories, such as carrying cases and charger options can enhance the Nuvo style.
NuvoCig gives users the flexibility to vape anywhere, including in most areas where there is a smoking ban. For those looking for a healthier alternative to smoking, NuvoCig provides a flavorful experience by producing water vapor rather than smoke.
NuvoCig is intended for users 18 years or older and sales to minors are prohibited. Electronic cigarettes contain nicotine and should not be used by pregnant or nursing women. Although NuvoCig offers different levels of nicotine, it has not been proven to be a smoking cessation device.
To learn about electronic cigarettes, please visit our
website
.
Contact
NuvoCig
Kindra Wilson
(212) 242-2003
www.nuvocig.com

Contact