Currie, Peak, and Frazier, Inc., a High Tech Resource and Service Company, is Appointed as an Authorized Value Added Reseller for Motion Computing's New Wireless Division
Currie, Peak, and Frazier, Inc. is pleased to announce that they have been contracted as an authorized value added reseller for Motion Computing's New LINCWorks™ Portable Wireless Devices. These devices create instant network connectivity as a reality anywhere, including outdoor and vehicle networks. WiFi, Mesh Networking, and Cellular capabilities integrated into rugged, portable enclosures, make adding or extending networks a snap. - See more at: http://www.CPF-LINCWorks.com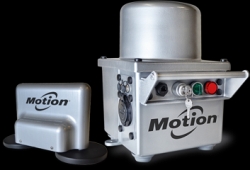 Orlando, FL, December 13, 2013 --(
PR.com
)-- The innovative portable technology lets users quickly establish reliable WAN/LAN, cell and/or mesh connectivity at worksites and events that require a simple, rugged, self-contained solution.
Motion Computing® , a leading global provider of rugged mobile technology built for business, today announces LINCWorks™ -- a family of portable, rugged, easily deployed wireless connectivity devices. The new devices make it easy to instantly create a cohesive WAN/LAN, cell and/or mesh communications infrastructure – anytime, anywhere. Housed in a tough, NEMA-rated weatherproof case, the units are ideally suited for deployment in harsh, non-traditional environments like construction sites, oil and gas exploration platforms, emergency command centers and anywhere dependable connectivity is needed.
The LINCWorks RDA (Rugged Deploy Anywhere) products are self-contained, portable units built on cutting-edge wireless technology that integrates a proprietary six-antenna array and automated configuration software. These products allow users to quickly establish fast, reliable connectivity for field workers at remote, or temporary worksites.
"Motion's products deliver the reliable, self-configuring network connectivity our workers need to move project data and handle their jobs more efficiently. Because they are rugged and easy to deploy anywhere, we can quickly scale our network as the job site changes," said Tim Smith, Project Coordinator at Rogers-O'Brien Construction Company.
Motion rounds out the LINCWorks RDA line with easy-to-add accessories. These include a high efficiency solar power supply for sites lacking reliable electricity, fixed or rotating cameras for use in security applications. An expandable mast is also available to increase security camera viewing area. Wireless coverage can also be expanded by mounting antennas on the expandable mast.
"Motion's focus and leadership in rugged computing has shown us that infrastructure connectivity across harsh, remote and other non-traditional environments that is essential for productivity has been lacking," said Dave Mackie, Head of Wireless Networking Products, Motion Computing. "This concept takes a 'network in a box' approach that lets users instantly establish a WAN/LAN, cell and/or mesh infrastructure for the reliable exchange of mission-critical information anytime, anywhere."
Motion is also announcing availability of the powerful LINCWorks VAN (Vehicle Area Network) unit specifically designed for use in vehicles. Housed in a smaller, lighter enclosure, the product features functionality similar to RDA line with the added benefit of auto-configuring, drive-up connectivity in an aerodynamic case designed for exterior vehicle mounting.
LINCWorks RDA and VAN products are currently available in North America. For more information, visit
www.CPF-LINCWorks.com
Contact
Currie, Peak, and Frazier, Inc.
B. Beaumont Currie
407-855-0843
www.CPF-LINCWorks.com

Contact