"The Latin Road Home: Savoring the Foods of Ecuador, Spain, Cuba, Mexico and Peru" by Jose Garces Comes to Digital
Beautiful, best-selling cookbook receives innovative ebook transformation and distribution to all major retailers.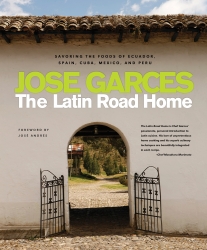 New York, NY, December 17, 2013 --(
PR.com
)-- Chef and restaurateur Jose Garces revived Latin cuisine in Philadelphia and the United States with over a dozen restaurants. He is the 2009 winner of the James Beard Foundation's "Best Chef Mid-Atlantic" award, and is one of only a few chefs in the country to hold the coveted title of Iron Chef. Garces has also written two best-selling cookbooks, including 2012's The Latin Road Home, a gorgeously photographed and designed cookbook that intertwined Garces' life journey from Chicago to Philadelphia and his Ecuadorian heritage, as well as his global jaunts exploring new foods, with delectable recipes. Now Garces's publisher, Lake Isle Press, has commissioned a special digital version of the book by Vook that is available today on Amazon, Barnes and Noble, iBooks, and other channels.
The digital version of "Latin Road Home" translates the layout and design of the complex cookbook into a beautiful and easy-to-read version, accessible on a wide variety of digital reading tablets and devices, all without sacrificing readability and the quality of the original design. With this presentation, users can now take "The Latin Road Home" with them everywhere they can bring their e-reading devices.
"I'm always looking for different ways to share my food with people, and making this deeply personal cookbook and travelogue into an ebook is an exciting new way for me to bring my recipes and stories to fans and first-time readers alike," said Jose Garces.
"We're thrilled to make this wonderful book, featuring many of Jose's exciting, signature recipes, available in digital format," adds Hiroko Kiiffner, publisher of Lake Isle Press.
"The Latin Road Home" is available for $9.99 on Amazon, iBooks, Barnes & Noble, Kobo, Google, Sony, and Samsung. A print edition is already available.
About the Author:
Since opening his first restaurant in 2005, Chef Jose Garces has emerged as an enormous talent and one of the nation's most gifted chefs and restaurateurs. He is a 2009 winner of the James Beard Foundation's prestigious "Best Chef, Mid-Atlantic" award and one of only a few chefs in the country to hold the coveted title of Iron Chef, appearing regularly on Food Network's hit show Iron Chef America. He is also the author of two cookbooks, including his travelogue and memoir The Latin Road Home (Lake Isle Press, Fall 2012) and his first recipe collection, the stunning and instructive Latin Evolution (Lake Isle Press, 2008).
Chef Garces' eponymous Garces Group operates more than a dozen restaurants in Philadelphia, PA; Chicago, IL; Scottsdale, AZ; Palm Springs, CA and Atlantic City, NJ, as well as a thriving Philadelphia-based catering operation and a food truck. His award-winning concepts range from authentic Andalusian tapas to Latin-Asian small plates, from modern Mexican street food to contemporary American ingredient-driven cuisine. In Chicago, Chef Garces is the executive chef at the much-praised Catalan restaurant Mercat a la Planxa, where he works in collaboration with Sage Restaurant Group.
In addition to his restaurants, Chef Garces is the owner of 40-acre Luna Farm in Bucks County, PA, where he and his team grow produce for his seven Philadelphia restaurants. In 2013, he will partner with Philadelphia's landmark Kimmel Center for the Performing Arts to debut Volver, a state-of-the-art concept kitchen and champagne bar where he will prepare and serve artful tasting menus and continue to develop and refine his groundbreaking culinary style.
For more information on Chef Jose Garces or any of his restaurants, please visit www.garcesgroup.com and follow them on Twitter: @garcesgroup and @chefjosegarces.
About Lake Isle Press:
Established in 1990, Lake Isle Press, Inc. publishes quality nonfiction, specializing in cooking, health, and art-related titles for popular audiences. Lake Isle Press holds its books to the highest standards of content, design, production value, and usability. Having produced a number of outstanding award-winning titles, bestsellers, and modern classics over the years, Lake Isle Press never ceases to strive for excellence in its category, particularly in its beautifully photographed and produced cookbooks.
Contact
Vook
Allison Horton
626 264 2668
vook.com

Contact