Amac Software Announces New Year 50% Discount Offer for Amac Keylogger for Mac OS X
Amac Keylogger for Mac, which records keystrokes, passwords, websites, IM chats, takes screenshots and sends logs to email, now is on 50%-off special sale.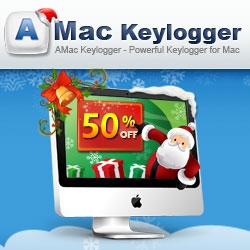 San Francisco, CA, December 26, 2013 --(
PR.com
)-- This festive season, Amac Software is out with a special discounted New Year offer on Amac Keylogger for Mac OS X. All licenses have been marked down by 50%, which is the biggest set of discounts from Amac Software ever.
The offer begins on December 23, 2013, and continues till January 3, 2014. Any users from all over the world will get the discount at Amac Order Page directly.
The price of Amac Keylogger for Mac Standard on the website under the special offer starts from $39.98 (down from $79.97), whereas Amac Keylogger for Mac Professional is for $64.98 (down from $129.97).
Amac Keylogger Features
Amac Keylogger for Mac is an invisible keylogger for Mac OS X, offering everything you expect for keystroke logging on Mac while it also delivery other practical features such as password logging, website tracking, instant message recording, screenshot capturing and so on.
Apart from text-format logs of keystrokes, passwords, websites and chats, you can also view the visual-format logs with the captured screenshots. The combination of both log formats offer you clearer idea about what has been done on the Mac. The reports generated by Amac Keylogger can be stored locally or sent via email/FTP after configuration, so that you can choose to view the logs remotely via computers, tablets or mobile phones.
Amac Keylogger starts automatically and runs on the Mac all the time. It performs the monitoring work in stealth mode so it is undetectable by users. A security password can be set to prevents others from uninstalling the keylogger, modifying the settings or deleting the log files.
Amac Keylogger is also easy-to-use, even if you are a Mac newbie. With Amac Keylogger for Mac, you can know what your kids, employees or family members have been up to on the Mac computer without their awareness.
"We are proud to deliver a monitoring experience for users that will delight them and really give a helpful hand to who is in need of spy solution on Mac," says Jeremy Smith from Amac Software, "I hope this discount helps more users get the exact what they want to know."
Compatibility: Mac OS X 10.5 (Leopard), 10.6 (Snow Leopard), 10.7 (Lion), 10.8 (Mountain Lion), 10.9 (Mavericks) and above.
Get full functional free trial at this link:
Amac Keylogger for Mac
.
User Testimonial Quotes
Quote from Rose Bayben
"Definitely the best keylogger, logs all the activities on my laptop. Even more important, my smart boy does not know that I am keeping an eye on him."
Quote from Neil Beasley
"The install of this product is amazing and it works wonderfully. It provides exactly what it claims and is an invaluable tool for me. I would share it with my partners."
About Amac Software
Amac Software, founded in 2005, aims to offer smart and easy-to-use security solutions for computer and mobile users all over the world. Today, millions of people worldwide use Amac Keylogger for Mac to discover the truth and protect their loved ones online.
Contact
Amac Software
Jeremy Smith
+1-888-901-6617
www.amackeylogger.com

Contact