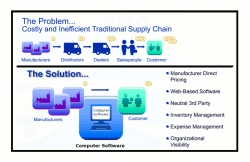 Fort Lauderdale, FL, January 06, 2014 --(
PR.com
)-- Cranking Software, the software company behind the country's largest physician dispensing system, has launched their newest software system;
http://MDSupplies.com
"This medical supplies management and ordering system will revolutionize the medical supplies industry," says Theo Antoniou, President of Cranking Software. "MDSupplies directly connects medical health facilities to supply manufacturers, eliminating the costly price margins added by multiple layers of distributors, dealers, and salespeople." Antoniou adds, "Besides the important cost saving benefit, MDSupplies enables practice managers to compare, track and control their medical supplies purchases from one central application."
Cranking Software has been extremely successful in the physician dispensing market with its MDScripts and private branded software; currently controlling a large majority of the country's physician dispensing business. Cranking Software has numerous software systems in the medical field; including physician dispensing, pharmacy billing, toxicology testing, drug pedigree tracking, and now medical supplies. The MDSupplies system has been fulfilling orders for about six months, while it builds it's vendor and fulfillment capabilities.
The MDSupplies system is already generating a positive buzz with health care facilities around the country. Brad Reeser, Business Relations, says "While we expected overwhelming interest from our physician dispensing channels, we were surprised by all the other channels that are approaching us; such as restaurants, tattoo shops, manufacturing facilities, and fire/rescue departments." Reeser adds, "All of the prices for all of the products are available to the public right now on the MDSupplies website. We're not here to waste anyone's time with common pricing tactics and trickery."
MDSupplies and Service Availability
There are no software downloads, no approvals, no account applications, no minimum commitments, and no contracts to sign. The MDSupplies software is live and available to use for free on their website; http://MDSupplies.com
About Cranking Software
Founded in 2005, Cranking Software has quickly become a leader in medical related software. The company offers a wide range of products and services for practices designed to improve efficiency, expand operations, and now save money on supplies by connecting buyers directly to the manufacturers.
About MDSupplies and Service
MDSupplies and Service is a software company specializing in linking providers, practices, and all other buyers directly to major manufacturers. It is their goal to bring the best industry prices possible on supplies and equipment by eliminating traditional dealer and distributor expenses.
For more information on MDSupplies and Service:
MDSuplies and Service
800-637-2080
support@MDSupplies.com
http://MDSupplies.com