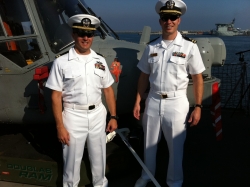 Raleigh, NC, January 07, 2014 --(
PR.com
)-- Andrew J. Cobin, a VA Certified Attorney of the law firm of Cobin Law, PLLC will speak on Veterans Pension Benefits at the Crabtree Chiropractic Center on three different dates this month:
January 28, 2014 at 2:00-3:00 pm
January 29, 2014 at 6:00-7:00 pm
January 30, 2014 at 10:00-11:00 am.
Attorney Cobin will provide the public with much needed information. Few veterans who served during wartime, or their surviving spouses who have not remarried, know about this valuable benefit.
This gathering will be hosted at the Crabtree Chiropractic Center and refreshments will be provided. "All of us have clients who are veterans who served during war, or surviving spouses of such veterans. We know VA Pension Benefits significantly improves their lives," states Andrew.
Learn more about this valuable benefit on the 28th, 29th or 30th of this month. This presentation is complimentary. However, seating is limited and reservations are necessary. Call Cobin Law, PLLC at (919) 825-1518. The presentation is about 45 minutes and Andrew will answer questions following the presentation.
Criteria for qualifying for this benefit:
Veteran must have served at least 1 day during qualified war period, e.g. World War II, Korean Conflict, Vietnam War
Veteran must have served at least 90 days active duty
Veteran received a better than dishonorable discharge
Veteran is 65 years or older, or permanently or totally disabled
Claimant is a surviving spouse of a qualified veteran and did not remarry
Location:
Crabtree Chiropractic Center
4517 Lead Mine Road
Raleigh, NC 27612