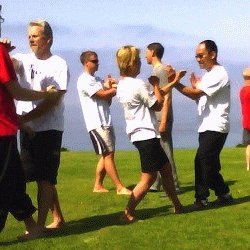 Dana Point, CA, January 16, 2014 --(
PR.com
)-- A community event for Chinese New Year will feature public Wing Chun Kung Fu demonstrations at Lantern Bay Park on Saturday, February 1st from 10am-noon.
Sponsored by The Dragon Institute, the event will also offer interactive exhibitions and hands-on training to the community.
Opportunities will be available for beginners to learn Wing Chun's keys to fast hands, moves on the wooden dummy, hand-to-hand combat applications, Qigong as well as low-impact exercises for seniors.
The event will also feature a Chinese Lion Dance exhibition as well as kid's crafts and face painting.
Wing Chun is different from other types of Kung Fu or martial arts. Known for its no-nonsense close-quarters effectiveness, it specializes in practical self-defense rather than tournament-based competition. It is used by the Chinese Army as well as hundreds of military, self-defense experts & law enforcement agencies around the world including the US Navy Seals, FBI, CIA, French RAID and German SEK. Wing Chun's effectiveness is achieved through its efficiency, leverage and scientific movement.
The Dragon Institute, with locations in Dana Point and Irvine, specializes in the art of Wing Chun. The Dragon Institute offers classes for all ages including hardcore self-defense, kids Wing Chun (ages 5 and up) and healing movements of qigong for everyone.
For more information, contact The Dragon Institute at (949)542-8470 or visit ocwingchun.com.