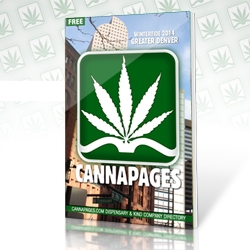 Denver, CO, January 27, 2014 --(
PR.com
)-- The Great American BudBowl is set to light up the afternoon on Sunday, February 2nd, as
Cannapages.com
celebrates both a 4-year birthday, and the NFL championship between the country's first recreational marijuana states. The company has announced plans to offer the only "Recreational" mile-high Super Bowl party, partnering with some of the area's largest vendors and "420" tour companies.
Anyone over 21 is invited to attend the Birthday Spectacular at the Roxy Theater near downtown Denver, starting at 3PM. The big game will be shown on giant screens while attendees enjoy complimentary cannabis and edibles. Sponsor Budding Dreams will showcase a new disposable vaporizer, with additional contributions from Club 710, Top Shelf Extracts, and many others. The event is also an official stop on the My 420 Tours Cannabis Tasting Tour.
"It's been a whirlwind of a year," said Senior Editor Rolv Harris, who noted the party was originally planned to launch the newly published Cannapages, the first phone book for recreational marijuana in the world. "We've already spent the month celebrating our print edition and upgraded website. But fate ultimately chose our theme this year, and we're happy to highlight the rivalry and cheer on our home team."
More than just a local industry directory, the company is now infamous for its birthday parties and "420 Eve" show, always featuring free cannabis for all legal attendees. The first known recreational event in the state was the 2013 birthday spectacular, where infused cake was handed out to an estimated crowd of 800 at the Aztlan in Denver. This year's cake will be presented by local industry staple chef Dan Henrickson.
Colorado and Washington state both voted to legalize and regulate recreational marijuana in 2012; Colorado's commercial cannabis market has launched while Washington will follow suite later this year. The private party is invitation-only to comply with new regulations. Visitors who have not received invitations may request door access by contacting the Cannapages editors or signing up online.