Aaron Rodgers Surprises Sisters at the Milwaukee Art Museum in Season Two of itsAaron.com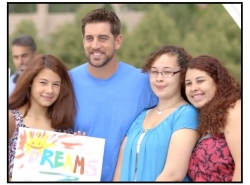 Milwaukee, WI, January 30, 2014 --(
PR.com
)-- Season Two, Episode Three of itsAaron.com was released today. The video is part of the itsAaron.com project, a collaboration between Aaron Rodgers and attorney David Gruber that brings positive attention to inspirational individuals and worthwhile organizations making a difference in our community. In this visit, Aaron surprises three sisters at the Milwaukee Art Museum. Aaron chats with the girls about their lives and overcoming challenges, and the group even spends time painting together. The girls also discuss the influential role Journey House has played in their lives. Journey House is a Milwaukee-based mentoring program designed to serve children and families using a self-help philosophy.
"David and I know it is a privilege to shine a spotlight on these young people and the organizations that help them," Rodgers wrote in a note for itsAaron.com. "Each one reminds us that there are good people in the world, and that's a good feeling. The challenges that so many young people face today are significant. All of us can make a difference."
David Gruber, founder of Gruber Law Offices, is a personal injury attorney and community advocate. He explained, "Aaron and I have partnered to form itsAaron.com because of our shared passion for trying to make a difference… We had the privilege of visiting with young adults actively involved in different organizations, organizations that play an important role in our community and provide support for the children and their families. It was very special, very meaningful, very inspiring!"
Recently, Aaron Rodgers was named the 2014 NFL Bart Starr Award winner, an award that recognizes outstanding character in all areas, on and off the field. The Bart Starr Award is voted on by fellow NFL players. Like the award's namesake (Hall of Famer Bart Starr), Rodgers was chosen due to his passion for greatness in the world around him, an exceptional role-model at home, on the field, and in the community.
Back in Season One of itsAaron.com, there was focus on children and families involved with the MACC Fund (Midwest Athletes Against Childhood Cancer). Aaron was ringing doorbells, surprising and spending time with amazing kids. In Season Two, Aaron surprises deserving individuals at Milwaukee landmarks. Season Two involves three unique episodes, each highlighting individuals and organizations positively impacting our community.
The new episode, as well as all episodes from Season One and Season Two, including behind the scenes material can be viewed on itsAaron.com.
For inquiries, please contact Andrea Rickmeier of Gruber Law Offices at 1-888-855-9069 or via email at alr@gruber-law.com. You can also see the some of the mentioned episodes at
http://www.gruber-law.com
.
Contact
Gruber Law
Ruth Williams
972-267-6800
gruber-law.com

Contact