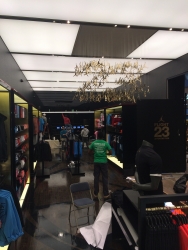 Freeport, NY, February 04, 2014 --(
PR.com
)-- Greenlion Cleaning & Maintenance Inc. is happy to announce they were selected to do the post construction cleaning for the very first Jordan® store in the world, called "Flight 23 at Footaction". So far this has probably been one of the most blogged about, talked about and anticipated store openings of the year.
While Greenlion Cleaning & Maintenance Inc. isn't new to providing post construction cleaning services, they are elated to be chosen to deliver a first class
cleaning service
to "Flight 23 at Footaction", before its grand opening last Saturday morning. Greenlion Cleaning has also provided post construction cleaning for projects such as: Starbucks, Wendy's, Zimmermann, RadioShack, American Eagle Outfitters and many other commercial and residential projects thorough out New York City and Long Island. Greenlion Cleaning & Maintenance Inc. has set themselves apart by providing quality cleaning and impeccable customer service.
"As celebrities such as Spike Lee and other customers walked through 'Flight 23', on opening morning they were impressed with the latest merchandise in the Jordan® store but they also noticed how 'pristine and immaculate the store was' - compliments of Greenlion Cleaning," according to a sales associate at the store. Greenlion Cleaning & Maintenance Inc. recognizes the undertaking of this project as a major mile stone and looks forward to continuously providing quality cleaning and top-notch customer service.
Greenlion Cleaning & Maintenance Inc.
also offers: office cleaning, retail store cleaning, post construction cleaning, move out cleaning or end of tenancy cleaning and power washing. Greenlion Cleaning supports homeowners, builders, realtors, property managers, contractors and business owners in their desire to ensure a clean environment for their families, clients and employees, by means of providing them with a first-class cleaning service.