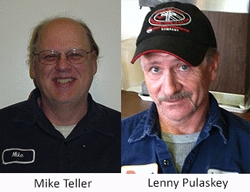 Waukesha, WI, February 12, 2014 --(
PR.com
)-- DUECO, the oldest and largest final-stage manufacturer of Terex aerial buckets and digger derricks in the nation, has expanded its road service team in Michigan to continue building on a reputation for service excellence with utility companies, electrical contractors and tree care customers in the state.
Mike Teller, a 25 year veteran mechanic with 10 years of experience as a machinist, is now providing support roughly south of Hwy 46 from his base in Jackson, Michigan. Mike has depth in welding and structural repairs, hydraulics and electronic circuit diagnostics and repair.
Lenny Pulaskey has degrees in industrial engineering and business, has significant experience in heavy equipment and automotive maintenance and has owned manufactured housing businesses. Lenny will be servicing customers north of Hwy 46 and in the Upper Peninsula from his base in Tustin, Michigan.
Judie Taylor, President of DUECO, commented, "The third generation of our family-owned company continues a 59 year tradition of providing outstanding support. We stand behind our products and services and have a passion for customer service. In fact, our Vision Statement reads that we have 'a burning desire to take care of our customers and our team members...to Make A Difference in the utility and related industries'. Customers in Michigan have expressed that DUECO service expertise sets the company apart and we are excited to be expanding our service team in Michigan to meet the growing need in the market, assisting our customers in achieving their goals, knowing they can count on highly productive, reliable trucks."
DUECO has manufacturing facilities in Waukesha, Wisconsin and Watertown, South Dakota and has six service centers spanning a 15 state territory from the Dakotas to the East Coast. The company represents more than a dozen other OEMS, services all brands of utility trucks and provides expert parts and training support.
Contact 800-442-0086 to schedule a service call with Mike or Lenny or for emergency support.
About DUECO, Inc.
DUECO, Inc. is the largest provider of Terex bucket trucks, digger derricks, and cranes for the utility market in the nation, providing product and support in 15 states. DUECO also manufactures custom utility truck bodies and distributes mini derricks, aerial lifts, stringing equipment, trailers and a broad line of tooling and accessories for lineman and utility operations throughout the U.S. Family owned and operated since 1955, DUECO's philosophy of teamwork, integrity, and open communication with customers and employees ensures high quality equipment and support at the best value.