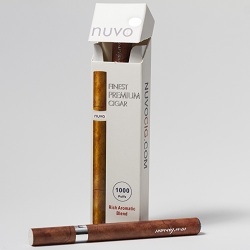 New York, NY, February 28, 2014 --(
PR.com
)-- The NuvoCig
e-cigar
is a battery-powered device that can be used to replace traditional tobacco cigar smoking. Upon inhalation, the device's battery is activated, which then converts a flavored liquid into an odorless, quickly dispelled vapor.
Designed for the discerning. NuvoCig recognizes the cultivated tastes of seasoned cigar smoker and has designed its e-cigar to meet the high and exacting standards of adult cigar connoisseurs everywhere. NuvoCig's unique e-cigar liquid is a rich and aromatic blend that has the nuanced flavor and smell of a quality tobacco cigar. Not only has the NuvoCig e-cigar flavored e-liquid been carefully crafted to appeal to the senses of cigar aficionados, the casing and tip is authentic-looking, down to the detail. In every way, the NuvoCig e-cigar mimics the look and feel of a real hand-rolled cigar. The e-cigar is one time use, just like a regular cigar. Users have said there is a maple-like undertone when vaping, a mild tobacco flavor that is similar to traditional cigars. In addition, its distinctively slim body makes it comfortable and easy to use. Cigar smokers and e-cigarette enthusiasts alike will enjoy!
What types of e-cigars are available? The NuvoCig e-cigar comes in two types, original and premium. The
original NuvoCig e-cigar
version lasts approximately 500 puffs and costs $19.99. The
premium NuvoCig e-cigar
version lasts twice as long and can be purchased for $29.99. Both versions feature the same exclusive e-liquid formula.
This latest addition to NuvoCig's growing product line of quality tobacco-free vaping devices represents NuvoCig's commitment to developing innovative e-cigarette solutions and expanding the e-cigarette and e-cigar user experience. As a company on the forefront of the e-cigarette and vaping trend, NuvoCig is working to make e-cigarette and e-cigar devices widely available to adult consumers through retail outlets and online channels. Competitively priced and customizable, the NuvoCig family of products broadens consumer choice of smoke-free vaping devices.
None of NuvoCig's products produce any trace of harmful smoke, the characteristic and irritating byproduct of tobacco smoking. For those who are looking for an alternative to smoking or are concerned about the adverse effects of smoke on those around them, electronic cigarettes can provide a gratifying substitution.
To learn more about NuvoCig and its range of products, please visit
www.NuvoCig.com
.