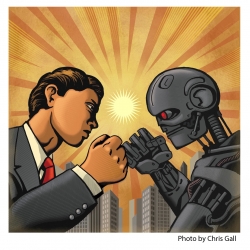 Los Angeles, CA, March 11, 2014 --(
PR.com
)-- Misconception of technology
There is a myth that Technology and smart phone technology will replace the Advisor's job leading to the same path that crushed the Travel Agent industry. Often, software experts point out the success of Mint.com, Wealthfront.com and other personal finance management web sites as a strong argument of why the Advisor as a "profession" is undergoing a major overhaul and will eventually be 100% self-managed and online.
"Not so," said CEO Maurice Berdugo of BP Analytics.
He stated recently on a broadcast radio show that "A rational thinking person simply would not hand over their entire life savings to an online software service no matter how cheap and sophisticated their technology offering is."
Think about it for a minute...
- Does answering a few risk related questions online magically yield the most efficient portfolio that is customized for your long term goals and needs?
- How will an automated software built to execute based upon a programmed algorithm know how to react to unannounced changes in a person's life?
- Will software connect you with the "other financial people" we need in life such as; Insurance Agents, Mortgage Brokers and more.
Clearly, there is a misconception. Financial Advisors are needed and in large quantities to meet the increasing demand.
Financial software is a tool of the trade, much the same way a doctor uses a stethoscope at every patient visit but with one big difference, technology is evolving and the Advisor has to remain on the cutting edge to remain competitive.
Financial Software that a company like BP Analytics develops will always be programmatic and conduct back office operations such as; crunch numbers, data aggregation, run market simulations, filter through mass amounts of data and generate reports. The results are effectively; objective, clear cut and repeatable which is in contrast of a Financial Advisor's client facing role.
In short, don't be misled into thinking that online wealth management services will solve your financial woes, it won't, it may even make it even worse. Talk to a Financial Advisor and you be the judge.
Maurice Berdugo
CEO - BP Analytics
www.bpanalytics.com