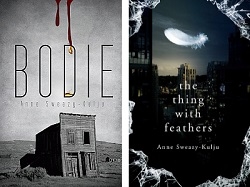 Pacific City, OR, March 17, 2014 --(
PR.com
)-- Already an award-winning manuscript (1st place winner, Writers Type International, March 2013), Sweazy-Kulju's third novel, "Grog Wars," is a stand-alone Part I of a 2-Part epic, which entered production last week. The author has begun the sequel to "Grog Wars," which follows a depressed young German brewer as he crosses the deadly Atlantic in 1849, and travels the Oregon Trail during the bloodiest period in its history, only to land in Portland, Oregon, "Shanghai capital," and the most dangerous place on earth.
The Pacific City author and Tate Publishing are working to team up the release of "Grog Wars" with one or more of Oregon's favorite craft breweries, for a fall release--perhaps just in time for Oktoberfest. Stay tuned for more on this. In the meantime, Sweazy-Kulju is celebrating her newest, nationwide release, "BODIE," by giving away 10 free signed copies on March 18 and 19, on
www.goodreads.com
.
BODIE is a historical fiction adventure that masquerades as a century-old love story (thwarted), a murder mystery one hundred years standing, and a political conspiracy that transcends time. Oh and there's a creepy measure of the paranormal, too--the story is Sweazy-Kulju's own. In fact, the decomposing building on the book's cover is the Swazey Hotel—home to ancestors of the author, according to one of those genealogy websites.
Sweazy-Kulju entertains! Unlike the milk-toast action or anemic love stories put forth by book-a-year celebrity novelists, Sweazy-Kulju grants readers the ancient art of storytelling combined with classic Greek tragedy and a flair for the West. The result is original, Oregon-grown stories, quite unlike the cookie-cutter plots many readers have come to accept. "I loved this book like I have not loved a book in a long time," reads an Amazon.com 5-star review. And that, right there, is the author's reward. Ironically, it takes her a hundred-thousand words to accomplish what you, the reader, can do in just one word: Escape.
Readers thirsting for "Grog Wars," might slake it for a time with a softcover or download copy of Sweazy-Kulju's debut novel, "the thing with feathers," or her newest release, "BODIE."
http://www.Facebook.com/Anne.Kulju
http://Twitter.com/AnneSweazyKulju